Emily Calandrelli is a prominent name in the male-dominated field of science and engineering.
Once she realized that she was a natural in science at a young age, her passion and drive for it took her from her graduate school at MIT, to an engineering internship in China, and ultimately to every aspiring scientist's dream, NASA.
Emily has accomplished a great deal at such an early phase of her life. The MIT-engineer is also an Emmy-nominated Science TV host, who has worked as a correspondent for Saves the World and an executive producer-anchor of FOX's Xploration Outer Space.
Emily Calandrelli's Family, Education
Emily grew up in West Virginia College town, creating childhood memories with her little brother, Drew, a nerdy boy, and most importantly, a cancer survivor. Like Emily, today, Drew leads an accomplished life, teaching maths to the high school students.
Emily won several academic awards as a student, never neglecting her academic grades. More specifics to her early life, family descent and ethnicity is yet to be revealed.
Also Passionate About Science: Ziya Tong Married, Engaged, Husband, Boyfriend, Pregnant, Net Worth
She credits her success to her long hauls, dedications and more than anything to her parents. They were always there for her even while she was struggling with her hectic life while gaining formal education and pursuing her TV career.
Married Life With Husband / Boyfriend
In addition to being a bright scholar and having a successful profession, Emily is an amazing wife. She is now, married to her high school boyfriend, Tommy Franklin, currently working at Google.
They exchanged their wedding vows and became husband-wife on 13 August 2017. Since then, the pair have been happy and so in love, flaunting their pictures together on their social media.
Moreover, few months before their second wedding anniversary, the couple is now expecting their first child, a baby girl, who without even having led her first step has been dubbed, the 'First ultrasound sent to the edge of space.'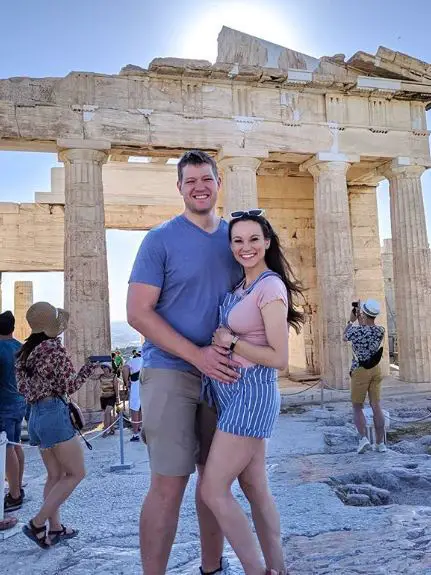 Emily Calandrelli and her husband Tommy Franklin posing together with the baby-bump of their most awaited baby girl at Athens on 29 May 2019 (Photo: Tommy Franklin's Instagram) 
Emily and Tommy have been traveling, taking this moment away from the humdrum. In the process, on 29 May 2019, they spent a day in the city of Athens, teaching the unborn baby about Athena, Goddess of Wisdom and War. 
Interesting Read: Elizabeth Palmer Bio: CBS, Age, Family, Husband, Weight Loss, Salary
The soon to be parents have been together nearly for over a year now. Emily met the love of her life at NASA during her internship. Since then, they have traveled to 15 different countries and had countless adventures. 
Her Salary & Net Worth
Emily has accomplished quite a lot from her career. Besides being a part of entertainment and NASA, she has invested herself in the literary world as well. Emily wrote about science on children's book series, the Ada Lace Adventures.
She also partly rose to her career's height as a professional speaker, sharing her insights and experiences on space exploration, scientific literacy, and equality. 
All in all, from all her attainments, she must have garnered big chunks in her net worth. Her TV career, where she has given many of her years must pay her off with a handsome salary and a great many incentives.