The Married at First Sight reality series star Jessica Griffin soared to popularity with her television career as a psychologist and relationship advisor, mending numerous troubled relationships. Besides using her expertise for other's benefits, Griffin also applies it on her personal life to establish healthy relationships with her family. And it is evident on her social media handles.
Dr. Jessica Griffins's Maintains A Healthy Family Relationship
One might think that the love life of relationship advisors is perfect in every way. But that is not the case. They do have their share of fails, but the only difference is that they can handle it with grace and positivity. 
So is with the psychologist Griffin. She also came through a failed relationship which she hasn't been frank about to the public. And from her ex-partner, she has three wonderful kids, a daughter Delaney, and two sons Carter and Jack, whom she loves dearly. 
But, love found its way again, and she met her perfect partner, Jonathan Francetic, in the reality tv series Married at First Sight, where she joined as a relationship expert. In the show, Jonathan, a financial associate, had come as a couple with another partner but winded up leaving the show with Griffin. 
Griffin had made her first appearance in the series for its sixth season, replacing Rachel DeAlto. But after her relationship with Jonathan, she declared not returning to the show for its next season. The romance that flared on the set of Married at First Sight proved to be one of the best things ever happened in her life. 
After almost five months of dating following the show's end, the pair got engaged in 2019. They had already set a date for their marriage in 2020, which got delayed due to the COVID pandemic.  
As a single parent, Griffin's major concern was what kind of relationship her partner would have with her kids. But, with Jonathan, she didn't have to worry about it at all. He perfectly blended with her kids and her whole family.
On her social media, where she often posts about her family, she frequently talks about how caring and adoring her fiance is to her kids. For instance, in her Instagram post of March 2019, Griffin wrote how Jonathan picked up her sick son from school and took him for a check-up while she was busy with her work. In her words,
My #mcm goes out to this guy @jon_francetic who canceled his entire day today, dropping everything to go pick up my sick kid after the school called that he had gotten sick in his class...I know you never planned on signing up for the glamorous life of Lysol and five-year-old tears — yet you always have my back and make my heart expand in ways I never thought possible. 
Also, the family celebrated this years' father's day by preparing Jonathan a breakfast in bed, and the kids gifted him a mug printed with a heart-melting message, 
Dear Bonus Dad, Happy Father's Day from the kids you inadvertently inherited when you decided to shack up with mom. Love, Carter, Delaney, and Jack.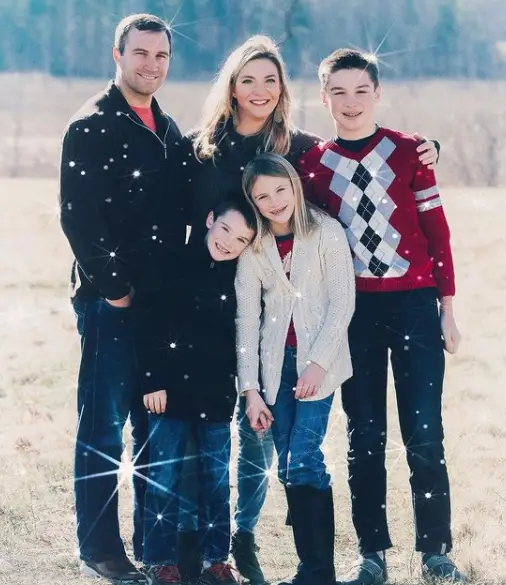 Jessica Griffin with Jonathan Francetic and her children. (Source: Instagram)
Learn Briefly About Her TV Career and Net Worth
Griffin, aged 41, received her psychologist license after finishing her education from The College of William and Marry with a doctorate in clinical and forensic psychology. 
Although she was already prominent as a brilliant psychologist and relationship advisor, she reached greater heights taking her expertise into television. 
Despite her brief tv career, she is widely known for the reality series Seven Year Switch and Married at First Sight, through which she saved several relationships from the brink of breakage with her amazing relationship guidance. 
With a declaration of not returning to her last show through her social media, she is still active in her profession off-screen and will jump right back in television when she gets the right project. 
Moreover, as per analysis, the psychologist probably earns an annual salary of over 95 thousand from her psychology practice. And combining that with her tv career, she probably has amassed a net worth of over a million dollars.