English director Danny Boyle is best known for his work on movies such as Trainspotting, Shallow Grave, The Beach, Slumdog Millionaire, 127 Hours, Steve Jobs, Sunshine, and Yesterday.
One of his film, Slumdog Millionaire, became one of the most successful British films of the decades.
His movie was nominated for ten Academy Awards out of which it won eight, and Danny the Academy Award for Best Director. 
As of 2019, Danny is one of the most high-profile filmmakers present in the United Kingdom. 
Danny, who began his career in British TV and theatre in the early 1980s, has reached the height of experience and has reached where young director and producer dreams of reaching someday. 
Don't Miss: Dan Cadan Biography, Age, Net Worth
With all the hard work, struggle, and dedication, Danny has not only made a name and fame but has also made a net worth of $60 million from his career. 
Danny Boyle Dating / Married To Wife?
While peeking inside his personal life, it seems like Danny has never been married to a possible wife.
However, his unmarried status does not make him a human being without romance. He is quite a romantic guy who has dated a few well-known women. 
In around 1993, Danny was dating the casting agent, Gail Stevens. During their relationship, the duo never decided to exchange the wedding vows.
However, they were so in love that they never felt the importance of "I do's." They were not only the perfect girlfriend and boyfriend but were also parents of three children, Gabriel, Caitlin, and Grace. 
Unexpectedly, Danny and Gail called off their relationship in around 2002. No one expected their relationship to end as they contributed their 12 years in the relationship.
Although the love between them faded away, they remained friends, and Danny continued his responsibility as a fatherly figure. 
Later, Danny dated English actress Frances Barber. Danny and Frances met when they did drama at Bangor University.
However, Danny's relationship with Frances also did not work as they went separate ways. 
Years later, after two failed relationships, Danny again found love in 22 years his junior, actress Rosario Dawson.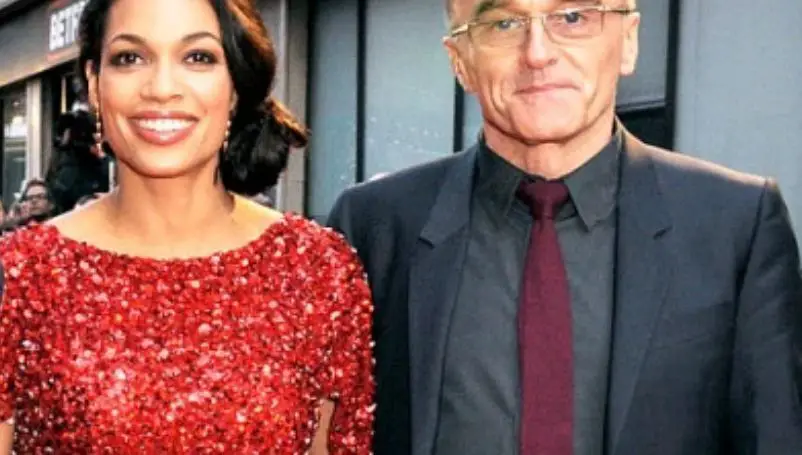 Danny Boyle poses with his girlfriend Rosario Dawson in 2013 (Photo: magazine.com)
This time people got excited and waited to see the two beautiful souls becoming one. But unfortunately, within a year, they split.
Hopefully, someday, Danny finds his soulmate and spends his remaining life with her. 
Short Bio
Danny was born on 20th October 1956 to Irish parents from Country Galway.
He grew up in a working-class Catholic family, but now, he describes himself as a "spiritual atheist."
For eight years, he was an altar boy, and his mother has the priesthood for him on her mind. 
But everything changed when a Priest persuaded him to not transfer from school to a seminary. 
Then, he studied at Thornleigh Salesian College pursuing his degree in English and Drama at Bangor University. However, he dropped out of the university to join the Stock Theatre Company.