Nothing is forever in this world, and there is no exception in this rule even in love. Every person has lost someone they loved. And the pain is universal; even in the life of a star. Likewise, Dana York is one of the known faces who rose from the experience of losing her husband.
Dana York Wedding, Tom Petty
Dana, age 54, never revealed the information about her first husband. It was when she was married to her first husband that she met Tom in 1991, at one of the shows in Texas. She was drawn to him. However, she hid her emotions because both of them were married at that time.
Tom Petty was married to his childhood sweetheart, Jane Benyo, with whom he had tied the wedding knot on 31 March 1974. Eventually, the couple found their way into drugs due to which their relationship became distance. They took the step to end their married life and finalized their divorce on 9 September 1996.
On the other hand, Dana also ended her married life with her first husband in the same year as Tom. After going through some ups and downs with their past, Dana and Tom reconnected in the same year.
In an interview, Dana stated that she and Tom Petty both felt as though they had known each other their entire lives and fell in love in a blink of a moment. When Dana met him, he was into drug addiction, misusing both cocaine and heroin.
Peek Inside: Trevor Penick Biography: Age, Married Status Amid Gay Rumors
However, Dana was not willing to let go of him as she stood by him to fight against drug addiction. She finally exchanged her wedding vows with Tom on 3 June 2001 in Las Vegas.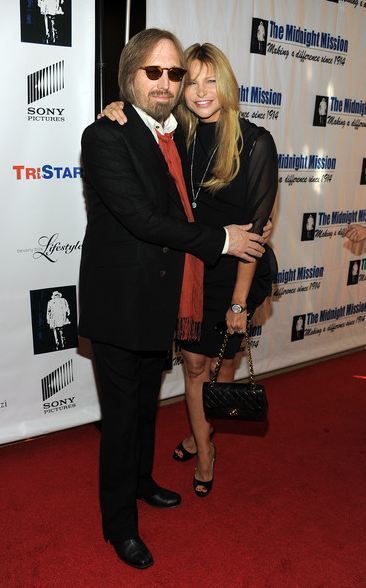 Dana York attends 11th Annual Golden Heart Awards with her husband Tom Petty on 9 May 2011 (Photo: zimbio.com)
Speaking of her children, she does not have any with Tom. However, from her previous marriage, she has a son named Dylan. Her husband also shared two daughters, Adria and AnnaKim Violette with his ex-wife.
Dana and Tom were the perfect combinations that the fans shipped with all their heart. The two were relishing their married life, but their sail drowned on 2 October 2017. They didn't part ways with divorce. They went separate ways because fate decided to take Dana's husband away. Tom died due to an accidental drug overdose. His death was a massive loss for her family and music industry.
As of now, Dana is fighting a legal battle with Tom's daughters. She accused the rock legend's two daughters of making it impossible to manage his estate.
Dana claimed that before her husband's death, he had put her in charge of the estate. She also mentioned that Tom's daughters were getting in the way of her and were also giving trouble for the unreleased solo material on the 25th-anniversary reissue of Tom's album, Wildflowers.
On the other hand, Tom's daughter Adria has filed a petition with probate court accusing Dana of ignoring two of their father's wishes as laid out in his will. Adria also claimed that Dana was required to transfer Tom's artistic property to trust and a separate company, which would be jointly administered by all three women. 
However, Dana refused to make that transfer and also requested the court to appoint a day-to-day manager for the estate and asked the daughters to calm down.
In 2019, in a lawsuit which was filed in Los Angeles Superior Court, Tom's daughter Adria and Annakim asked for $5 million in damages plus attorney's fee. The daughter also stated that after countless efforts to resolve the matter amicably they could no longer stand idly watching Dana disrespect Tom's wishes. 
Take Time To Read: Mandy Harvey Married Status | Biography: Dating, Family, Age
Tom's daughters also assert in the lawsuit that Tom gave them equal responsibility for his estate. The lawsuit also mentions that Dana has caused the daughters to lose out on business opportunities, and Dana also created a company known as Tom Petty Legacy to ensure plaintiff's business opportunities and misappropriate its assets.
Moreover, Dana's lawyers also wrote that because of Adria's erratic behavior has made it exceedingly difficult to carry on with business. Dana also mentioned that Adria has interfered to release Tom's third album Wildflower.
The battle between Tom's daughter and wife has gone more ugly with time being.
Her Wiki, Net Worth
Dana York's wiki reveals that she was born in 1964 in Flint, Michigan. While she has not disclosed her birthday, it is known that Dana embraces American nationality. She doesn't talk much about her parents, but there was a time when she mentioned that her father suffered from drug addiction.
Dana, who stands at an average height was a principal at University High School in Ferndale, Michigan. She later took the job of a manager of her husband.
However, she has not revealed the actual amount of her net worth. Being a wife of late American musician Tom Petty who has a total net value of $95 million, she might be enjoying her late husband's net worth as well.