Cynthia Scurtis, age 46, was born in Miami, Florida in one of the most prominent religious family of the swanky Coconut Grove neighborhood.
She was raised in a churchgoing household, her grandfather, Demosthenes Mekras being the influential Greek and priest who founded the first Greek Orthodox church in Miami. 
Cynthia majored in Psychology at the Ohio State University and joined the Pi Beta Phi sorority. She got a master's degree in Psychology from the Nova Southeastern University in Fort Lauderdale.
Besides her excellent grades, her father, John, an importer-exporter, and her mother, Evangeline, always encouraged her athletic side from an early age. Cynthia, an avid volleyball player during her high school days, stands to a height of 5 feet and 6 inches (1.68 meters). 
Details On Her Married Life With Alex Rodriguez
The multifaceted Cynthia dragged the media and public attention to herself, especially with her romantic involvement with the dreamy-eyed Alex Rodriguez aka A-rod, a former New York Yankees player. 
Cynthia was sweating profusely in the Body and Soul Gym in Miami on some mundane day in 1996 when the then hotshot Seattle Mariner shortstop approached her.
His high-profile and carefully built abs and muscles hardly swayed her. Be that as it may, she went on to have a beautiful friendship with him, which gradually turned into a lovely courtship. 
Continue The Read: Kayla Braxton Wiki, Age, Husband, Family, Salary
Six years after their encounter, on 28 December 2002 as Cynthia blew her 30th birthday candle, Alex proposed to her over dinner at a South Beach restaurant. 
Although her family first objected to her relationship with the non-Greek A-rod, the couple tied the knot in a Dallas wedding, officiated by Cynthia's grandfather. To travel with Alex full-time, Cynthia even quit her job as a pretrial counselor where she helped people stay out of prison. 
Unfortunately, not everyone is blessed with a happily-ever-after in their married life. The marriage did not end well as Cynthia filed for divorce in 2008, and the split was not pretty. 
Her filed petition for the dissolution of a marriage alleged on her husband's extramarital affairs and other marital misconduct. 
Cynthia Scurtis' Expensive Divorce In The Showbiz
The separation between Cynthia and A-rod is regarded as one of the most expensive divorces in Hollywood history. The couple settled their multimillion-dollar divorce case for an undisclosed amount in September 2008.
Cynthia also got the $12 million worth mansions as part of the divorce settlement.
The now-divorced exes share the custody of their beautiful daughters, Ella and Natasha. They put their differences at the bay when it comes to their kids well being.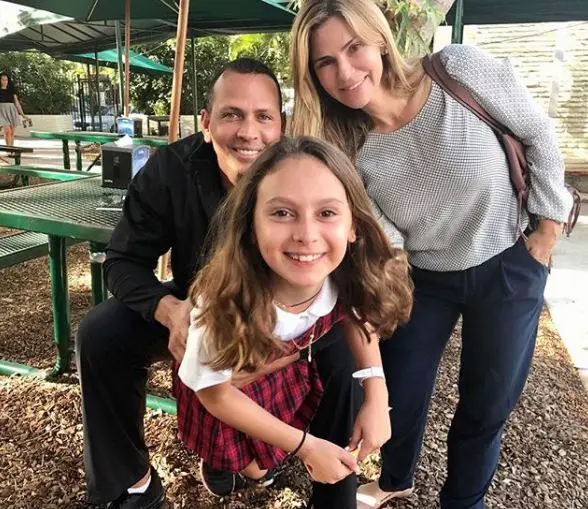 Cynthia Scurtis with ex-husband, Alex Rodriguez attending their daughter, Ella's Parents-Teacher Day at her school on 9 March 2017 (Photo: Alex Rodriguez's Instagram)
Decades after their settled divorce, once again, the past lovers are arguing over the spousal support and the child support they had settled for at that time. A-rod, the ESPN and FoxSports analyst wanted to cut the child settlement payment claiming to be retired from the field.
Peek Into The Interesting Life Of: Prim Siripipat Married, Husband, Boyfriend, Dating, Wiki, Bio
On the other hand, Cynthia who had moved on in life with the real estate investor, Laszlo Fazekas from 2009, was reported to be willing to negotiate, but she would not settle for A-rod's exact proposal.
The former Yankees star, who stands tall to a height of 6 feet 3 inches (1.91 meters), reportedly carries a net worth of $300 million (£228 million).
As of now, while Cynthia's ex-husband is engaged to the superstar, Jennifer Lopez, Cynthia has found solace in the arms of her fiance, Angel Oscar. She even shares a 2-year-old daughter with her fiance.
While her past lover is busy planning a wedding and fans speculating over his new baby with J.Lo, Cynthia has not revealed recent developments to her personal life.