Award-winning American magician and illusionist Criss Angel is best known for his live performance illusion show, 'Criss Angel Believe,' in collaboration with Cirque du Soleil, a Canadian Entertainment Company, at the Luxor casino in Las Vegas.
Throughout his career, he has had many television appearances and shows, including The Science of Magic (1997), The Science of Magic II (2003), the ABC Family special, Criss Angel Mindfreak (2002), and the Sci-Fi channel's Criss Angel Supernatural (2003). 
Additionally, he also holds a record for appearing on television for more hours than any other magicians. 
Besides his magician skills, Criss is a handy singer as well, as he had released five albums as the lead singer of the industrial band, Angeldust, between 1998 and 2003.
Son's Cancer Battle Continues 
Magician Criss Angel's first son, Johnny Crisstopher, is hit back by cancer with his hospital admission set on 9th December 2019.
Read More: Rachel Bonnetta Fox Sports, Wiki, Age, Married, Husband, Height
The five-year-old child was first diagnosed with pediatric cancer before the age of two in the year 2015.
And after three years of intense chemotherapy and fight with the disease, Johnny was announced cancer-free in January 2019. 
Now, one can only pray for God to show some mercy on the little child so that he lives a normal life ahead.
Criss Angel's Relationship History
The personal life of Criss Angel was not so easy going like it is for him now, as he has had many broken relationships in the past.
Firstly, Chriss Angel got married to his longtime girlfriend, Joann Winkhart Sarantakos, in 2002, but the marriage did not last for long because he was mentally unhealthy and accused his wife; the two separated in 2006.
Then, Chriss got married to his current-wife, Shaunyl Benson, with whom he welcomed his first child, Johnny, too; however, only after a year of their marriage in October 2015, they got separated. 
After that, there came news that Chriss was in love with his then-girlfriend, Latina pop singer Belinda Peregrin, and the news kept its grip until September 2017 when Belinda confirmed that she was single and was not even dating Chriss. 
Now With Wife Shaunyl Benson, Children
Criss Angel, age 51, propels his married life along with his wife, Shaunyl Benson, and his two boys, Johnny Crisstopher and Xristos Yanni.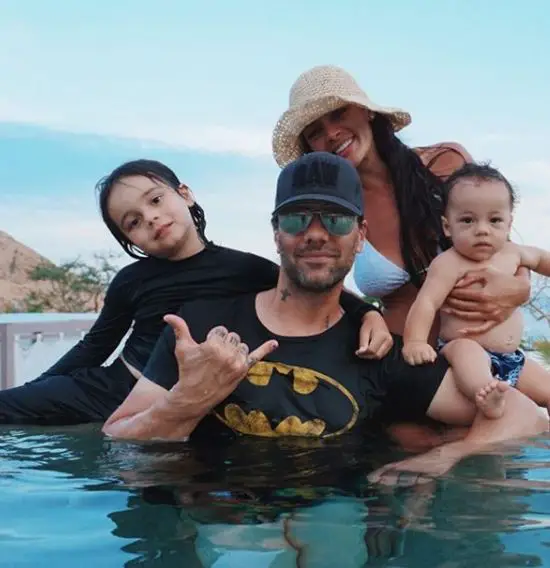 Criss Angel poses with his wife Shaunyl Benson and two sons, Johnny Crisstopher and Xristos Yanni, on 30 November 2019 (Photo: Shaunyl Benson's Instagram)
After initially separating in 2015, the two maintained a good friendship even after the split and looked after their son, Johnny, who was diagnosed with cancer. 
Interesting To Read: Tobin Heath Spouse, Gay, Married
Perhaps, when Chriss was struggling to find a good partner at that time, he fixed his problems with his ex-wife Shaunyl and restarted his married life with her.
Hence, as a result, they gave birth to Xristos on 22nd January 2019, and now live, supporting one another in every up and down.