Christmas Abbott is an American reality TV star and an Instagram celebrity known for her athleticism and CrossFit coaching class.
People also recognize her as the HouseGuest who appeared on the TV show, Big Brother 19 (2017). 
She has also played other TV shows and movies like Overtown, The Operator: Warfare, and Tattoo Titans. 
Moreover, at the age of 22, she joined her mother, Barbara, an American Army Vet, as an independent civilian laundry attendant at the US base in Iraq. 
Adding more to her accomplishments, in 2012, she became the first woman to appear in the National Association for Stock Car Auto Racing (NASCAR) pit crew. 
With such a vast area of expertise, she has managed to gain more than 700K followers on Instagram only. 
Her Married Status
The Big Brother 19's HouseGuest's personal life is like an open book. Anybody can come and know about it.
As of now, she is neither married nor is dating someone in recent times. 
Keep Reading: Graham Stanier Married, Husband, Partner, Age, Bio, Family, Net Worth
But, she has quite a history when the topic arises related to her relationship. 
Well, keep reading below to find out about her relationship history. 
Christmas Abbott's Relationship History
The famous fitness trainer was engaged twice, but the relationships did not go well.
At first, Christmas was engaged to a photographer named Josh Holmes. However, due to some unspecified reasons, the two broke up before getting married in 2014.
Further, after her break up with her ex-fiance, she got engaged to Geoff Kercher on 10th October 2015.
Besides, their wedding date and destination were also fixed and the duo had planned to be husband-wife on 3rd September 2017 at Raleigh, North Carolina.
However, luck didn't go on the pair's favor, and they split before meeting their fixed wedding date.
Testing her love fortune again, Christmas found herself a new companion in the form of Benjamin Bunn, a cross-fit trainer in his own run.
The duo met each other during a charity event in 2016. At first, they were just good friends, and as time passed, they began dating. Their relationship officially kicked off in October 2017. 
But, this time too, her love luck didn't work, and the pair walked their separated ways in 2018 as Christmas found Benjamin cheating on her.
Due to the same reason, she was also arrested in August 2018, as she attacked the woman Benjamin was having an affair with. 
Pregnant Plus Baby Details
While the Olympic weightlifter was in a relationship with her then-boyfriend Benjamin Bunn, it was revealed that she is soon going to be a mother. However, their relationship didn't work out.
Don't Miss: Who Is Jane Harber Husband? Facts On Married, Lesbian, Baby
Nonetheless, Christmas decided to keep her baby and bring him into the world.
On 8th October 2018, she gave birth to her first child and named him Loyal Atticus Abbott.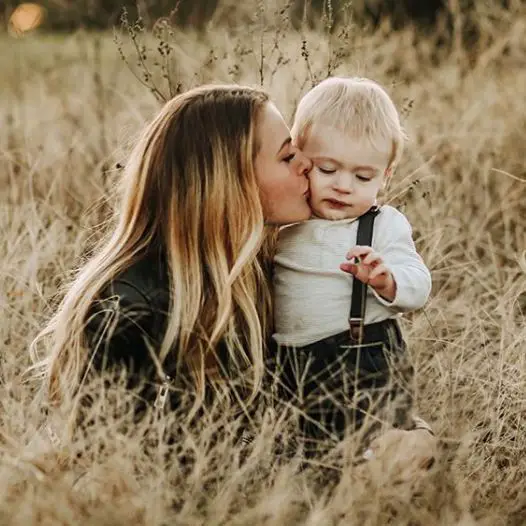 Christmas Abbott with her son, Loyal Atticus Abbott at Raleigh, North Carolina, on 15 November 2019 (Photo: Christmas Abbott's Instagram)
Furthermore, she also posted a photo with her newly born baby and thanked all the people and her fans who well-wished.
Besides, she also claimed that she was very happy and a proud mother. 
Moreover, the baby daddy, Christmas's ex-partner, is super happy with the birth of his child and wants nothing but best for him.
It is also known that the ex-duo is looking forward to co-parenting their son.