Behind every successful man stands a loving, supportive, and strong woman. 
Cathy Duplantis is no less than a perfect wife. She has always stood tall to support her husband, Jesse Duplantis, who believes in surrounding the earth with God's love.
Since 1978, she has been working at Jesse Duplantis Ministries, handling the responsibilities of Administrator, television co-host and Editor-in-Chief of Voice of the Covenant magazine.
She is also the co-founder of Covenant Church situated at Destrehan, Louisiana.
Cathy Duplantis' Bio, Age
Every year, Cathy Duplantis celebrates her birthday on 30th August.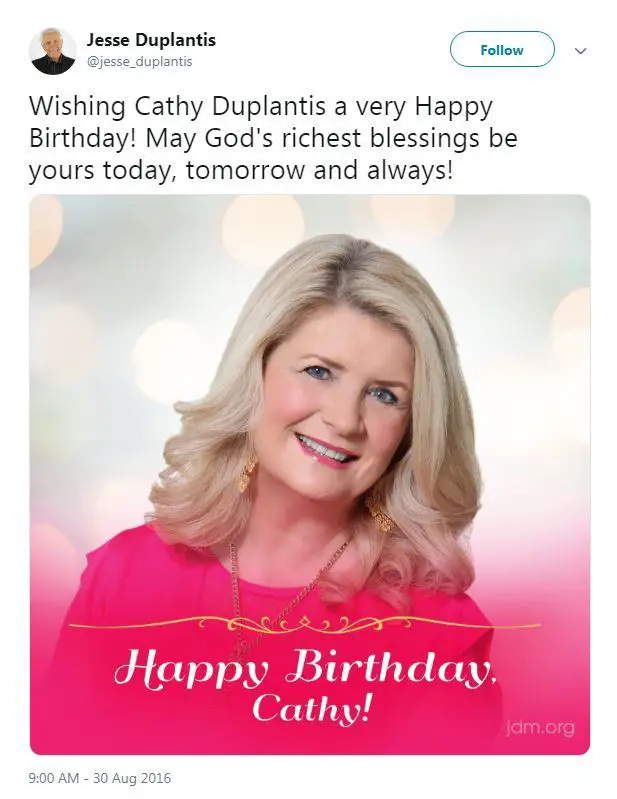 Jesse Duplantis (husband) wishing Cathy Duplantis birthday through Twitter on 30 August 2016. (Photo: Jesse Duplantis' Twitter)
Cathy is very confidential about her details as she has kept the information related to her birth year, high school, college, and parents very private to herself.
Check out: MTV Taylor Selfridge Bio, Age, Relationship
But one can surely say that her journey since her childhood must be very memorable and happy. 
As of now, she lives with her adoring husband, Jesse Duplantis, in Destrehan, Louisiana. 
About Cathy Duplantis' Husband
Speaking about Cathy Duplantis's husband, Jesse Duplantis, he is a religious leader and founder of Jesse Duplantis Ministries (JDM).
Jesse Duplantis Ministries is an organization that runs a campaign to make people believe in Christianity and follow the teachings of Jesus Christ. JDM is situated in different countries with an international headquarter located in America with its branches located in the United Kingdom and Australia. 
Jesse Duplantis, born on 9th July 1949, in New Orleans, Louisiana, is a follower of Jesus Christ. 
He and his wife, Cathy Duplantis, run JDM together to preach Jesus Christ's ideologies and learning to the world. The couple has founded a Covenant Church at Destrehan, Louisiana in 1997 together. 
While growing up, Jesse Duplantis was teamed up with a band called Summer Wine and performed with the stage name, "Jerry Jaxon." But his life took a turn over when he learned about Christianity after hearing Billy Graham, beloved American Christian evangelist, speak. 
His long career that includes his musical journey and later his service in religious campaigns, has given him good fame and respect all over the world.
Honored with the title, "The Apostle of Joy," Jesse has an estimated net worth of $20 million. 
Husband, Children
Cathy Duplantis has been happily married to Jesse Duplantis since 1970. The pair celebrates their marriage anniversary on 6th of June every year.
Recently, Cathy Duplantis and Jesse Duplantis completed their 49 years of togetherness through every thick and thin. They celebrated this occasion on June 6, 2019.
Talking about children, the Duplantis couple has a beautiful daughter named Jodi Walker. She is married to Ed Walker and has a pretty daughter too.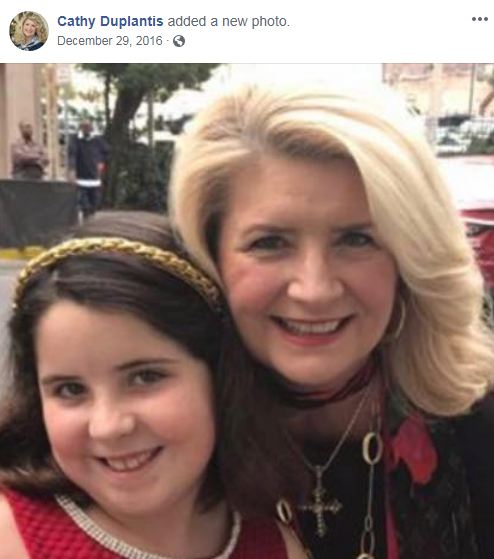 Cathy Duplantis with her granddaughter on 29th December 2016 (Photo: Cathy Duplantis' Facebook)
Professionally, Jodi is an author and has written the book titled, "Honey I Love Golf But I Love You More!"
Cathy likes to spend time with her granddaughter, daughter of Jodi and Ed, whenever she is free from her busy schedule.