Catherine Fitzgerald is a professional landscape designer and plantswoman. Throughout her career, she has worked on some notably spectacular projects like the Glenarm Castle in Antrim and significant restoration of the 100-acre garden at Hillsborough Castle, which is the Queen's residence in Northern Ireland.
While growing up, Catherine had thought that she would be a writer or a journalist, out of her love for literature. But, she got bitten "by the plant bug" and landed a diverse career altogether.
Catherine Fitzgerald's Wiki: Age / Birthday, Family History
Catherine Fitzgerald was born on the 18th of May 1971 to Desmond Fitzgerald and Olda Fitzgerald.
Her father, Desmond, was the 29th Black Knight, an ancient Irish title passed down through generations of the FitzGerald family. He was a keen architectural historian.
More Of Professional Designers: Alison Victoria Married, Husband, Divorce, Relationship, Bio, Age, Facts
When showing interest in country houses was considered unfashionable, Catherine's father brought his ancestral home, Glin Castle, in Ireland back to life. He renovated the place that was left unattended to since it was built in 1785.
Later, after he passed away in 2011, at the age of 74, the family first put Glin Castle on sale. But when things did not go as planned, they decided to keep the castle.
Catherine, the eldest of three girls, fell in love with the place from the moment she went to live there. Born actually in London, she was brought to life in the castle when she was three. Today, the historic place, besides being the home to its current chatelain: Catherine and her husband, also serves it as the venue for luxury rentals and weddings.
Husband & Children
Catherine has been married to Dominic West, a British actor, since the 26th of June 2010. They shared their wedding vows at the Church of the Immaculate Conception, on the grounds of Glin Castle, in Ireland.
By the time, they were already parenting partners, raising their three children- a daughter Dora, and two boys: Senan and Francis.
Now, several years after marriage, they have one more member added to the family—Christabel (five as of the 30th of January 2019).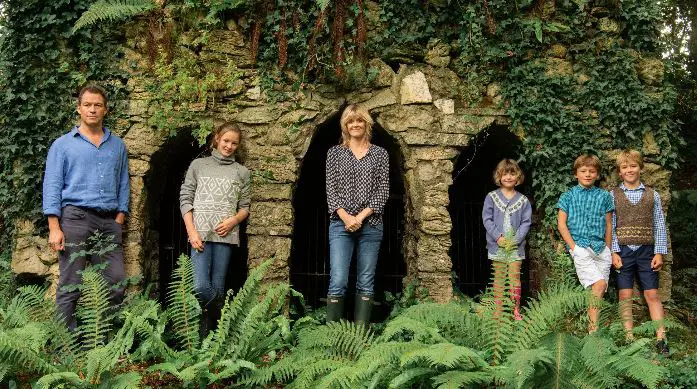 Catherine Fitzgerald, her husband, Dominic West and their children at their home in Glin Castle (Photo: townandcountrymag.com)
Also, Dominic has a daughter, Martha, 19, from a different relationship.
Born The Same Year: Sally Nugent Married, Husband, Partner, Sister, Family, Salary
Catherine and Dominic first met at Trinity College, Dublin, in the early nineties. Catherine was studying English and History while her now sweetheart was doing English literature.
Tragic Story
Her now-husband Dominic told The Irish Heraldhow how Catherine had previously broken off the alliance with him and got married to another man. She confessed-
She dumped me. I was either too immature or too stupid to make our relationship work. She just told me, "We are not right for each other". I was devastated, but being a bloke I pretended that I wasn't hurt. I was, of course.
After the split, Catherine married Edward Richard Lambton (better known as Ned Lambton). However, they divorced in 2002. Later, she revived her romance with Dominic, who made an offer for marriage in 2007.
Interesting Fact on Catherine's Husband
Catherine's husband, Dominic, widely recognized for his performance as 'Detective Jimmy McNulty' on HBO's crime drama series The Wire (2002---2008), reportedly values a net worth of $12 million.