In today's world of more tremendous visionary, considering only the people relating to the show-biz (mostly, actors, models, singers, and dancers) as the stars, is a cliche. People might not think someone as typical as an animal lover to be a massive star, only for their love for animals.
However, crossing all the barriers of stereotyped celebrity status, Bobbie Jo Abrams rose to the heights of popularity for her love for animals. The medium for her fame was a television show, but what led her to get the offers for the show was her immense love for animals.
Ever since her young age, Bobbie was an animal lover. Though her mother used to ask her not to feed the animals or they would never leave, Bobbie used to find straws to feed them as she didn't want them to go. Her endearing love for them, afterward, led her to adopt a lot of animals and feed them as their own children.
Later, she started getting more and more animals and kept them in her family's backyard, providing them with love and care. The increase in the number of animals ended up making her family backyard, a zoo.
As of now, the lady is known to be the owner of the North Carolina based zoo, It's a Zoo Life which consists of more than 80 animals. She is also a reality show star known for the TLC reality show, Our Wild Life, which features her family life as well as her story and lifestyle with her animals. 
There is no accurate report on how much the lady earns from her zoo, but she makes a good amount of salary as a reality star. Thus, the lady must have already earned an incredible amount of net worth from her reality show image. 
Bobbie Jo Abrams Married, Husband
Bobbie has been married to Jerry Abrams for many years now. Bobbie's husband is the son of Gerald Abrams, the owner of the "Abrams" family restaurant and catering service.
Jerry Abrams presently serves as the manager of the restaurant which has now grown its service to North Carolina, South Carolina, Virginia, Rhode Island and Florida.
Bobbie and Jerry's wedding must have had some amazingly delicious food items, no doubt!
Though Bobbie is an extreme animal lover, her husband is not the biggest animal person.
However, his wife's love for animals has led the man to deal with all the animals in their home zoo. This contribution to each other's small-big happiness has made the couple sustain in the long run of their relationship.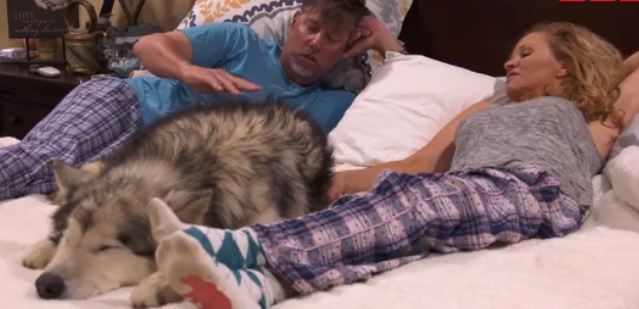 Bobbie Jo Abrams & her husband Jerry Abrams sleep with their wolf-dog on the TLC reality show Our Wild Life (Photo: newsobserver)
Their love for each other has given life to their children, Kasi, Hali, and Jaxon. However, Bobbie regards to herself as the mother of 90, considering all her animals as well to be her children.
Bobbie Jo Abrams Wiki-Like Bio, Age 
The United States-born Zookeeper, Bobbie Jo Abrams is 47 years of age. Also famous as a reality star, Bobbie celebrates her birthday on 28 July every year.
See Also: Janet Roach Wiki, Age, Birthday, Husband, Son, Net Worth
Though the lady tries to make her present life an open book to the public, she has never opened up about her past life. The lady is open to giving interviews about her present family life and all of their natural love for animals.
However, she has never opened up about the part of her life with her parents and her existing relationship with them.
When it comes to her family descent, Bobbie's race describes her as a white ethnicity holder, though she has never spoken much about her family background and actual ancestry.