People go on pursuing all kinds of professions. Ben Abbot, thus, chose to embark on a journey as a craftsman.
An electrical engineer by day, he is also a metal worker by night, and every weekend, he is seen crafting out steel-bladed chef's knives and an extraordinary assortment of "period-perfect" replica cauldrons, weapons, bowls, and jewelry.
He forms the wooden handles for the knives and the boxes they are stored in. Besides, he casts his own fireplace tiles for his Pasadena Craftsman cottage and also forges his own fire tongs. Basically, he makes all kinds of things, varying from industrial machinery to wedding rings.
Ben Abbott In Forged In Fire
Ben Abbot starred as one of the four judges who assess the quality of workmanship, eliminating one contestant at a time, on History Channel's Forged in Fire for its fourth season in 2017.
More Of The History Channel's Star: Ben Cartwright Wife, Net Worth, Family
Before, Ben also took part in the program as a contestant, winning in the first place during an episode of its second renewal in 2016.
The show got picked up for the seventh season, which last aired on 5th February 2020. In each episode of the competition series, four bladesmiths contest to forge bladed weapons, aiming for a $10K as well as the day's championship title.
Ben Abbott's Wiki
Ben Abbot began making blades when he was thirteen. Not being able to buy a sword during that time, he decided to make his own.
After many "spectacularly" failed trials, he would read books and observe the work of blacksmiths at his village restorations or museums.
Eventually, by the time he was seventeen, he was able to make knives, soon followed by ornamental ironwork, jewelry, and furniture.
Get To Know More Celebrity-Engineers: Justin Lukach Wiki Unfolds Age, Married, Wedding, Wife & More
However, he took a while to make his first sword. The first sword that he finally crafted was the lucky "khanda sword," which won him the first place during an episode of Forged in Fire.
Wife: Relationship With Her
An interview, dated September 2010, with HOMETOWN PASENDA, unfolded how Ben Abbott had made his wife Mandy a beautiful sterling silver dogwood necklace, massive copper, tin kitchen pans, and delicate horn caviar spoons.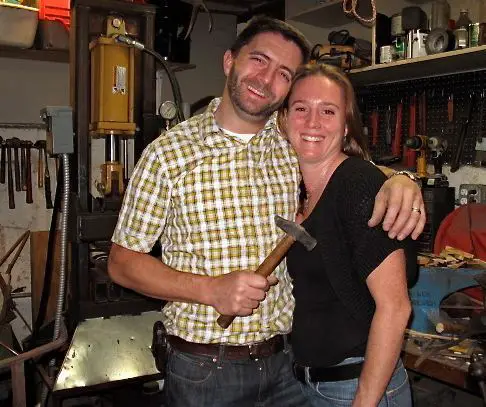 Ben Abbot and his wife, Mandy (Photo: hometown-pasadena.com)
By then, he lived in Northwest Pasadena bungalow with his wife. Also, that is the last time, his wife was mentioned publically. 
In recent times, he is dating Heather Rabun, a freelance choreographer, dancer, and artist.
Ben Abbot and his girlfriend Heather Rabun wishes on 23rd April 2019 (Photo: Heather Rabun's Instagram)
The two have been confessing their feelings over social media since August 2018.
More Facts On Ben Abbot
Both his parents have always been supportive of his "eccentric creative exploits."
He enjoys making knives the most; he has a collection of knives, of which a vast majority are ones that he made on his own.