When Demi Lovato, the American singer, songwriter captioned- "My (heart emoji)" in a picture of herself with this handsome hunk named Austin Wilson, her Instagram crowd went literally insane.
In the mirror selfie shared back in November 2019, Austin was seen giving Demi a lovable smooch.
As an instant reaction, the diva's 75.3 million Insta-family wanted to know who the lucky guy actually was!
And, it looks like there is so much to Austin beside his mesmerizing looks and the super good-looking tattoos, inked all over him, not even leaving his face alone.
Austin Wilson's Bio: Age, Family
Austin, 25, grew up celebrating his birthday every year on the 26th of May.
Interesting as it may sound, Austin's father, George Wilson, is one of the famous Z-Boys who crushed the skateboarding tournament circuits back in the late 70s and the early 80s. 
Continue Reading: Isaac Carew, Dua Lipa's Boyfriend Wiki, Age, Model, Religion, Height, Facts
Later on, for some reason, George went to pursue a diverse career. He began the clothing line, labeled Rivi Goods- which is the producer of jeans in Los Angeles. 
More so, George is married to Tara, yet maintains a special bonding with his son Austin from his previous relationship. 
Then, comes Austin's other half parent- his mother, Ana Castronovo, who, as per her profession, works for the yoga clothing brand, Spiritual Gangster.
She also serves as the regional manager for women's clothing brand, named Johnny Was. 
From what seems, she shares an exceptional equation with her son, and daughter, Brooke. 
Split After Months Of Becoming Instagram Couple!
Austin and Demi have called it quits merely one month after becoming official on Instagram. To keep it clear, they even deleted the photos of one another on their respective Instagram accounts, that once shook the internet.
PEOPLE confirmed the split on the 21st of December, as some source cited that Demi is rather concentrating on herself and her work right now. More so, it added that the diva is excited for the "2020 chapter" of her life.
They were publicly seen as a couple, as they made their very first outing during a hike in Los Angeles, days after going official on social media.
This Might Be Surprising: Dodie Clark Age, Boyfriend, Dating, Family, Birthday
And, last time they had been together was on the 14th of December 2019 when they went to Disneyland.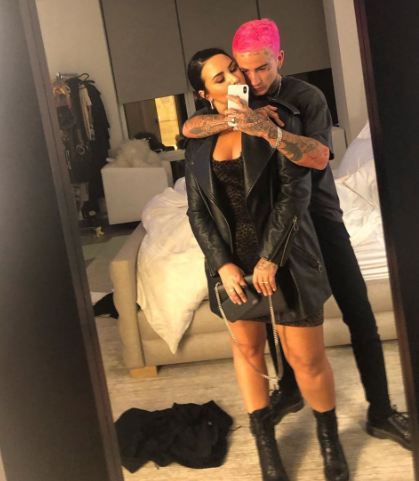 Austin Wilson takes mirror selfie with his girlfriend, Demi Lovato, on 13 November 2019 (Photo: Austin Wilson's Instagram)
Back in November, some sources revealed PEOPLE that Austin and "Sorry Not Sorry" singer had been friends until they signed up for the relationship " a little while ago". However, the real story behind their first encounter is still not obvious. 
Job / Net Worth
Sure enough, as time goes by, people will get to know Austin much better: what he does for a living and the lifestyle he leads on a daily basis.
But for now, all that can be said is that he is a Los Angeles based model, aspiring to do much better in his job.
The Santa Monica College graduate already shot for clothing brands Civil Regime, For Those Who Sin, and MSTKN, meaning there is more to come in the forthcoming days.