When There Is A Will, There's A Way. The quote carved above could not relate more to the life scenario of the former FBI special agent, Asha Rangappa. 
With broken ribs and cartilages, Asha, at her 20s, managed to land in a job at Quantico despite her shortcomings. She contemplates on the fact that, if by any chance, we mold our weakness into the strength, then no one can deter us from achieving what we want.
Asha Rangappa's Biography (Age)
Baptized as Renuka Asha Rangappa, the American lawyer cum lecturer was born on 15 November 1974. She was raised by her parents Jai and Vinaya.
Although her family origin traces back to Karnataka in India, Asha was born on Hampton, Virginia. Her family had moved to the States after the Hart Celler Act of 1965 allowed entry for immigrants possessing special skills. That made obtaining the visa for her doctor father an easy task. In her family, Asha also has an older sister named Menaca, with whom she shares a cordial relationship. 
Don't Miss: Ruth Dudley Edwards Married, Husband, Family, Age, Net Worth
The 43-years-old FBI former agent completed her high school from Kecoughtan High School. Driven by the passion and interest to further her education, she graduated with 'cum laude' from Woodrow Wilson School of Public and International Affairs at Princeton University.
With the term to come into effect immediately after her graduation, she was awarded the Fulbright scholarship to study about constitutional reforms in Bogota, Colombia. After returning to the United States, Asha earned her Juris Doctorate from Yale Law University.  
Asha, who wanted to study law since a very young age knew what she exactly wanted to do. During her time at Yale Law School, she served as a Coker Fellow for Constitutional Law, founded Yale Law School's first theater troupe, the Court Jesters and also participated in the Yale-Chile Linkage Program.
Asha Rangappa Career
In the aftermath of the 9/11 incident, Asha joined the FBI as a special agent since there was a significant surge of FBI agents at that moment.
While asked in an interview on why she decided to join the FBI, Asha stated how when she was in law school, she realized that the path to becoming a prosecutor was typically going to work for a law firm for a few years, which she did for one summer. It really wasn't what she wanted to do.
Law firms pay a lot of money and they do interesting work, but it just wasn't where Asha's heart was. So she started thinking about alternative ways that she could become a federal prosecutor. It occurred to her that she could be an FBI agent. So she joined the FBI and started her career as an agent. 
She worked for FBI for three years before coming back to Yale Law School as a Dean of Admissions, which is the position she serves as of today.
Asha Rangappa Married? Who Is Husband?
Asha is not only blessed in career depart, but she is also an attractive woman with fabulous body measurements. Her tall height perfectly complements her body and looks, which makes her an attractive catch even at the age of 44. This beautiful lady was married but now is happily divorced and single. 
Except for the wedding, another thing that has yet to surface the media is the cause of their divorce. Although the couple divorced circa 2011, the actual reason behind the divorce is still a mystery to the public.

Asha Rangappa mentions her 11-year-old son through a tweet on 9 February 2018 (Photo: Asha Rangappa's Twitter)
Related: Don Yee Married, Wife, Family, Clients, Salary, Net Worth
The couple together has two children; 11-year-old son, Paras Nikhil, and an 8-year-old daughter. Currently, both of the children live with the mother in Hamden, Connecticut. Even though being surrounded by the fact that the children are not close to their father, Asha is trying her best not make her kids feel the void created by the absence of a father.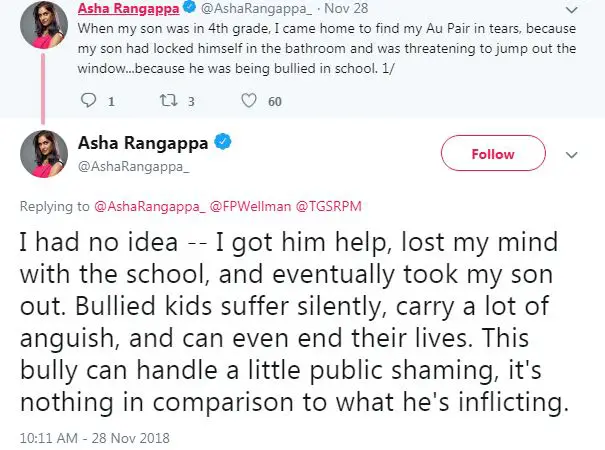 Asha Rangappa shares the story of her son being bullied on 28 November 2018 (Photo: Asha Rangappa's Twitter)
So, she often takes her kids out for fun. As a matter of fact, both of the kids are happy by this act of their mother. No matter how happy her son might seem, hearing the story of him being constantly bullied will certainly make everyone cry.
As from Asha's tweet, when her son was in 4th grade, he tried to commit suicide by jumping out of the window. However, Asha came at the right time, pacified him and saved his life. She tries to spend as much time possible with her son. As of now, he is a student and is living a joyous life with Asha.