Anupama Nadella is the wife of the first Indian born CEO of Microsoft, Satya Nadella, who succeeded 'Steve Ballmer' back on the 4th of February 2014.
The "tech wizard" soon became popular amongst sections of the media across the world after his crowning moment in the Microsoft. And, with fame resulted in the massive media and public scrutiny even over his personal life.
Continue Reading: Craig Federighi Net Worth, Wife, Family, College
No doubt, people would like to apprehend the tweaks on how Anupama, kept everything glued up in the Nadella family, despite the significant ups and downs in the Indian-American's business life.
Anupama Nadella Wiki: Age, Education
Anupama was born as 'Anupama Priyadarshini' in India back in 1973.
Her father, K.R. Venugopal, was the secretary to the Prime minister- in-charge of Kashmir affairs and social development, and he was also her husband, Satya's father IAS batchmate.
Anupama and Satya's history track-back to the time when they were still children. Anupama was Satya's junior in the Hyderabad Public School.
However, it was while they were studying engineering at Manipal University that their love story began.
Wedding Details, Children
Anupama and Satya tied the knots back in 1992. Although they never shared their wedding tales to the outside world.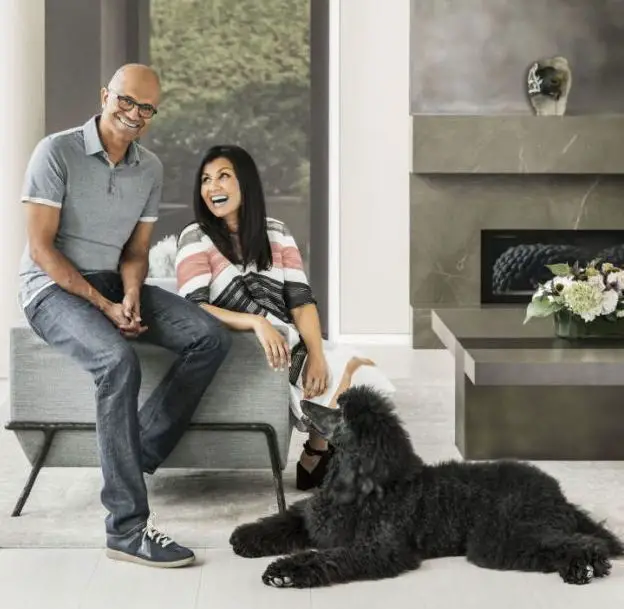 Anupama Nadella and her husband, Satya Nadella poses for a picture in their living room (Photo: goodhousekeeping.com)
And, today, decades later, they make a 'happy home' in their house near Seattle, together with their three children: a 23-year-old eldest son named Zain Nadella, followed by two daughters, Divya Nadella, and Tara Nadella.
Get To Know: What Is Nick Weir Age? Bio Reveals Married Status & Family Details???????
Zain, who is "severely disabled", at the time of his birth, suffered asphyxiation in utero, weighing only three pounds- and now, visually impaired, have limited communication and is quadriplegic.
"Technology kept Zain alive"- confessed "Anu" during an interview. For Zain, it is indeed more than just something to waste time on.
It gives him more control over life, for instance, with "a light tap of his head on a sensor", he can choose the music of his preference.
All in all, Anupama and Satya are the best pair of parents, one could ask for; whatever it takes, they are there for the young ones.
More to the "pretty private" family is their puppy, Winston, almost a year old, is more than a family pet, providing "emotional support" and bringing out a different sense of companionship in their children, especially Zain.
Net Worth
It is not yet reported, Anupama's net worth. However, it is not news to most of us that the Hyderabad-born Satya boasts an estimated $126 million worth of balance, as per indiatoday.in reports dated- 12 August 2018.
And, now that Microsoft granted him $29.6 million in stock awards and $10.8 million in cash, all on top of his regular salary, he would definitely be adding up to his existing net worth.