Antonio Ballatore came into the spotlight after winning the HGTV's Design Star reality competition Season 4, but he has appeared in many more TV shows before that. He is known for his appearance in the shows, Animal Cribs andThe Antonio Treatment as the show host and LA Ink, which is a TV series documentary. 
Antonio is much more than a TV personality; he is also a pet lover and an entrepreneur. He has even introduced his brand, Born With A Tail, which consists of dog and cat accessories and kitchenware. His merchandise is getting popular among pet lovers these days!
Antonio Ballatore's Wiki-Like Bio
Antonio Ballatore celebrates his birthday on 21 January every year. His bio reveals that he was born in 1969 in the United States and holds American nationality.
According to the wiki sites, he was raised in a happy family alongside an elder brother, who shares a close bond with Antonio. Antonio regularly shares pictures with his parents on social media.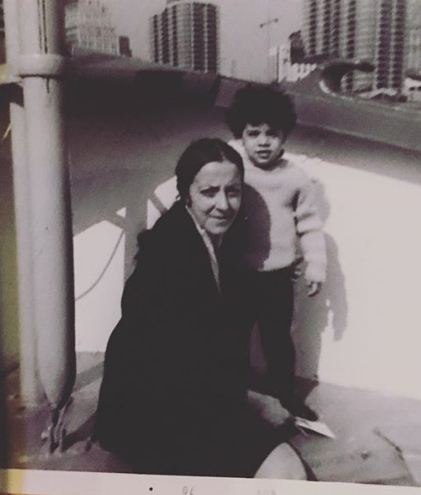 Antonio Ballatore remembers his childhood with his mother on 23 March 2017 (Photo: Antonio Ballatore's Instagram)
When he was young, Antonio wanted to grow up to become a famous rock star, but he also loved observing his artist father's work. Watching his father work with colors made Antonio appreciate art and gave him some idea about designing.
Even though he has not talked much about his mother, he never misses mentioning her and remembering her every day. On his Instagram account, he said about his mother who passed away in 1991, due to heart disease. It has already been 28 years since he lost his mother, but she is still with him in every step of his life. 
He also opened up about how his mother supported him during his childhood. Once in his 2nd grade, his teacher failed him in the art for coloring outside the lines and doing his own thing. Then his mother went to school and gave the teacher a lesson in how Italian American artist from the Bronx rolls. 
His mother taught him the compassion, love of animals, not to give up taking every chance in life and the most valuable lesson which he still implies that not to give a shit what others think especially when it came to art. 
Worth The Read: Rainbow Sun Francks Married, Gay, Family
While he was growing up and aiming to be a rock star by the age of 40, Antonio started to learn home designing. He began to design houses and restaurants in Manhattan and New York and worked for the photographer David LaChapelle. His work as a designer gained approbation, which led him to work for some of the biggest names in the industry like Madonna, Eminem, and even George Clooney.
As he got better at his job, Antonio landed on Design Star reality competition and even won the show, which was his big break. He was also honored as the Lady Gaga of interior design by LA Weekly.
At the age of 50, he is at the height of his career, and his net worth is estimated to be millions.
Antonio Ballatore Wife, Girlfriend?
Antonio Ballatore is a very private person, and even though his fans are interested to know about his love life, he only discloses superficial information.
Back in 2012, Antonio was spotted with Jennie Garth, enjoying a candlelight dinner. Jennie Garth, star of Beverly Hills, 90210, was spotted in the fancy dinner date after she split with her former husband, Peter Facinelli. Sources revealed that they were very touchy and flirty!
However, neither Antonio nor Jennie talked about this relationship, so the reality was never disclosed.
As of now, Antonio Ballatore is not a single man. He is dating his beautiful girlfriend, with whom he regularly posts pictures on social media.
Antonio Ballatore celebrates Valentine's day with his girlfriend on 14 February 2019 (Photo: Antonio Ballatore's Instagram)
Antonio has not revealed her name or identity and does not tag her on social media. However, speculating the pictures, it seems that they are living together as she appears to be close to his pets, Chewie and Edie. 
You May Also Know: Jane Kilcher Wiki, Children, Husband, Net Worth
Even though Antonio Ballatore is not married right now, his fans hope that he will soon pop up the question and introduce his wife.