Andy Baraghani is a passion-driven cook and journalist who rose to prominence as Senior Food Editor for the Bon Appetit magazine. He is someone who has gone through a life-long of hardships at the young age of 29.
Instead of letting the bad times engulf his sanity, he learned from them and let it mold him- and today he is proud of whatever has become of him.
His passion for cooking eventually helped him figure the answer to every riddle of life.
Young Andy never watched a single episode of Power Rangers nor was he interested in sports of any kind. He would rather watch cooking shows mesmerized by the cooking celebrities. In fact, the first time he asked for a birthday present was for the Fisher-Price kitchen.
Andy Baraghani's Wiki / Bio, Age & Family
Andy Baraghani was born on 27 November 1989 in the United States as an American by nationality. In 1977, his family emigrated from Iran to Berkeley, California. He thus embraces an Iranian ethnicity.
However, he always felt shameful about it and never spoke of his ethnicity as an adolescent. He was picked upon and bullied for his Iranian appearance. His curly hair, olive skin, thick eyebrows stood him out in the crowd. Name callings like- 'terrorist,' 'sideburns,' 'durka' became a day-to-day thing.
Unlike many, for Andy, childhood was an awful experience of his life. Nonetheless, even amid all chaos, he found solace in learning all about cooking.
Find Out About: Brooke Williamson Wiki, Husband, Kids, Parents, Top Chef, Restaurants
Without even him realizing, his education as a cook began in his home only. His foodie-family shared a close bond with Iranian food and its culture. He observed his father and mother while they were working in the kitchen, not knowing someday he would be a star in the field.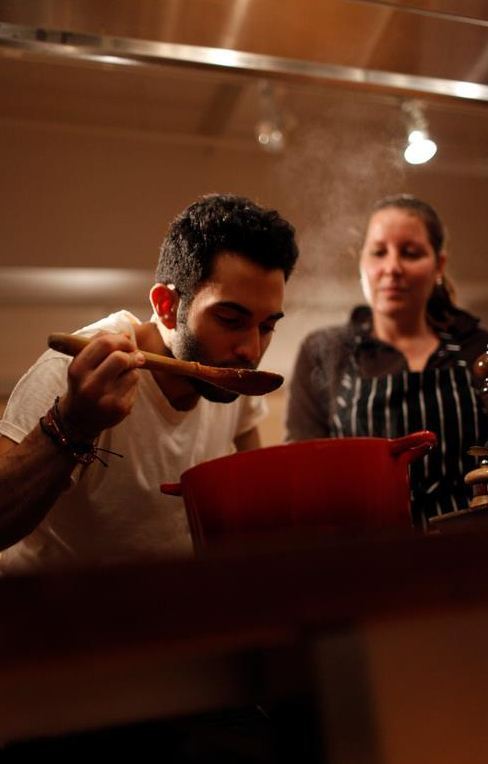 Andy Baraghani-tasting a dish in his workplace (Photo: wordpress.com)
Today, Andy has garnered a massive audience who look up to his recipes all over the world. His career has reached maximum height because of his consistency and dedications. His sole earning as a senior food editor is an average of $82K which by and by would add up to his net worth.
Andy Baraghani On Being Gay
Andy has never been a sports fan. The quite young boy was always pranked and picked upon for being rather close with girls and exploring 'un-manly' hobbies. From his young age, some part of him always knew that he was different.
At the age of 21, he finally got the answers to his sexuality and embraced it positively.
For that reason, his fans can rest assured that he is not married to a wife and also he doesn't have a girlfriend.
When Andy moved to New York for college, he met his first boyfriend. They instantly felt the pull towards one another. His then-boyfriend even helped Andy to come open about his sexuality to his mother. 
Andy then took a year and a half before doing the same with his father. Be that as it may, his parents were supportive of him and accepted him the way he wanted to be.
More From Cooking Star: Chef Chuck Hughes Married With Partner? Wife, Daughter, Height, Net Worth
As for now, the current updates on his relationships is yet to come.
Over a while, Andy has learned to accept his insecurities and differences; be it him being gay or an Iranian.