Andromeda Dunker has voiced thousands of episodes of the HGTV's show House Hunters. Even though people might not be familiar with her attributes, once they hear her voice, people can easily distinguish the person behind the sound. 
Moreover, Andromeda is incredibly friendly and warm, and as an acquaintance, she is very comfortable to be with. Despite being a celebrity, she is very down to earth and always encourage people to reach the peak of success.
Andromeda's Wiki-Like-Bio, Family
Andromeda Dunker's date of birth unfolds that she was born on 18 August 1972.
When her father, A. Keith Dunker, a respected biophysicist and now an emeritus professor at the Indiana University School of Medicine was completing his postgraduate studies, Andromeda was born at Yale University in Connecticut to Chinese-American mother, an astrophysicist. 
Andromeda, who stands at an average height, got her name from her mother who named her daughter for the Andromeda galaxy. When Andromeda reached the age of eleven, her family moved to France, where her father worked in nuclear research for a time. 
Eventually, Andromeda became fluent in French as well as Chinese and English. Then, she started studying in Oregon to study Linguistics and Russian along the way. 
Andromeda Dunker Married to Husband
Like Andromeda's career, she has also been always open and vocal about her married life.
She is happily married to her husband, Joshua Sliwa. Her husband, who completed his education from Gustavus Adolphus College, is a life long meditator and has been teaching meditation for almost two years.
He is also a passionate photographer, and currently, he teaches meditation, photography, and film making from his center in Laurel Canyon, Los Angeles, California.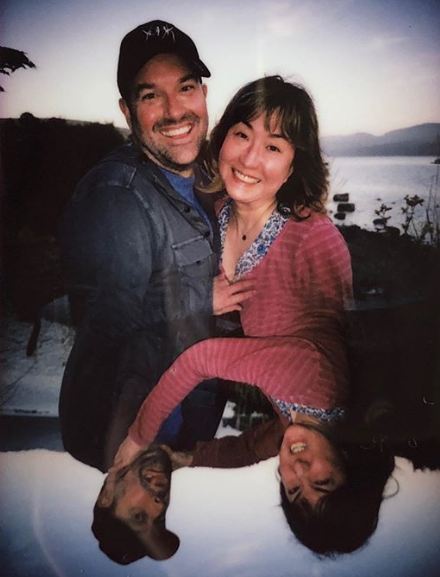 Andromeda Dunker posses for a weird picture with her husband, Joshua Sliwa, on 25 June 2019 (Photo: Andromeda Dunker's Instagram)
However, Andromeda has not revealed the date of her marriage. But, ever since she exchanged her wedding vows, she has been openly relishing her married life.
As a working couple, both Andromeda and her husband have managed to balance their career and married life. 
Her Salary / Net Worth From HGTV
Upon completing her college, Andromeda Dunker decided to pursue her career in entertainment rather than linguistics. Then, she did a major in Drama in Seattle and started looking for work in the Washington area. 
During one of Andromeda's audition, a casting director suggested to put her forward for voiceover work. Andromeda felt that her voice sounded annoying, but after she listened to her recording for the first time, her perspective over her annoying voice changed and felt kind of nice to hear her voice. 
You May Know: Katie Phang Age, Husband, Parents, Bio
Eventually, Andromeda landed as the third narrator in beloved HGTV series, House Hunters, after Suzanne Whang and Colette Whitaker. Now, Andromeda voices between 10 to 20 episodes each week. 
Even though she is behind the show, she is an important part of it, and people also love to hear her narrate the show. She has recorded over 1500 episodes of House Hunters.
However, there was also news roaming around about her departure from House Hunters. According to the newsweek.com, House Hunters is ditching the narrator role, but she is still listed as the narrator on the show's IMDb page.
Moreover, there is no specific explanation about the rumor as Andromeda hasn't addressed the rumors. Until then, people can only hope to hear her voice in the entire show.
In her career, Andromeda has made a net worth of $250K as per kiwireport.com.