Andrew Huang is a Toronto-based internet content creator, who is known for producing music and videos on his self-titled YouTube channel. He has released over 2,000 songs and 40 albums in a massive range of genres.
His hit music includes "Pink Fluffy Unicorns Dancing on Rainbows," "Alphabetical 26-genre song," "Synth City," and "99 Red Balloons – played with red balloons."
Bio: Age
Andrew Huang was born on 8 April 1984 in Ottawa, Ontario, Canada. He holds a degree of Bachelor of Fine Arts in Music from York University.
Personal Life: Married Details, Wife
Andrew Huang has been married to Esther Bowser (also known as Essa) since September 2008.
Related: CrossFit Athlete Camille Leblanc-Bazinet Husband, Married, Twin
The couple had their first interaction when Andrew walked Essa home after hanging out at a friend's show. Simultaneously, after Essa reached home, she narrated her time with her roommate and expressed her strange feeling for Andrew. In her words,
"But the first time we hung out, Andrew walked me home from a friend's show and I remember telling my roommate 'Is there such thing as a soulmate best friend? Because I think I just met him.'"
After a few weeks, Andrew and his now-wife went for their first date together, and by that time, both of them knew that they would marry each other someday in the future.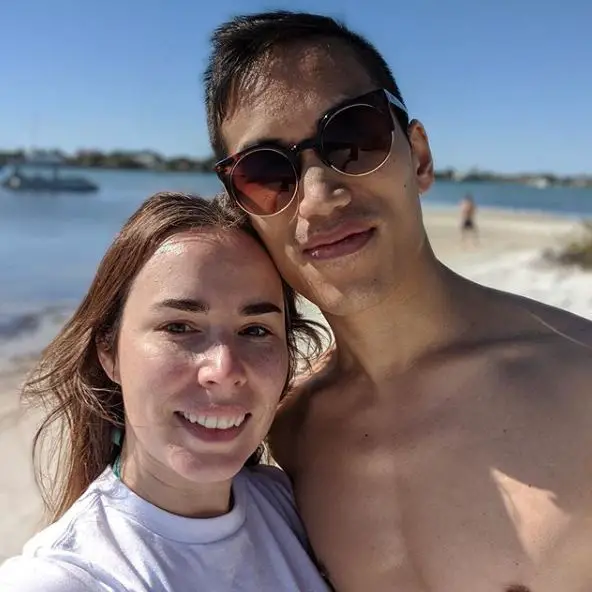 Andrew Huang and his wife Esther Bowser (Essa) on 5 December 2019 (Photo: Esther Bowser's Instagram)
As of now, the two manage a healthy marital relationship—living, working, and occasionally visiting various places together.
Career Insight
Andrew Huang started his career by auctioning off his songwriting skills to the highest bidder on eBay. Following the success of that, he launched the website named Songs To Wear Pants To in April 2004, where visitors could commission Huang to create songs based on personal requests. 
The popularity of the site motivated Andrew to create more good content and reach wider audiences. Hence, he opted for YouTube, where he started uploading music videos that he had already uploaded in his site Songs To Wear Pants. In that process, he was well-received for "Pink Fluffy Unicorns Dancing on Rainbows," as well as for his Song Challenge series. 
Interesting: Is Lashana Lynch Lesbian? What's Her Dating Status Now?
Andrew has been continuing to produce good music till now, collaborating with many known companies and artists like Hannah Hart, Boyinaband, Hank Green, and Team Andrew and Dreamz.
5 Quick Facts About Andrew Huang
According to Andrew Huang, his (extremely white) wife Essa makes better rice than he does—he has failed to do so as an Asian. 
His wife, Essa, goes by the username @essabowser on Instagram. She has over 1500 followers.
His brother-in-law's name is Phil Bowser.
He has over 1.9 million subscribers in his self-titled YouTube channel.
He has amassed over 170 thousand followers on Instagram.