Canadian journalist Andrew Coyne is a columnist with the National Post and also a member of the At Issue panel on CBC's The National. Andrew previously worked as a national editor for Maclean's and as a columnist with the Globe and Mail.
In his illustrious media career, Coyne has no doubt exhibited his surreal analytical and reporting skills. Furthermore, Coyne has successfully enticed an ample amount of global audiences who are more than curious to have a glance at his personal and professional whereabouts. 
Andrew Coyne's Bio: 
James Andrew Coyne, better known as Andrew Coyne, was born on 2 December 1960 in Ottawa, Ontario to parents, James Coyne and Hope Meribeth Cameron Stobie. Canadian native Andrew belongs to white ethnicity.
Andrew Coyne grew up in the renowned family. His father, James Coyne, was a governor of the Bank of Canada from 1955 to 1961. Meanwhile, his paternal great-grandfather, James Henry Coyne, was a Canadian historian and lawyer. Furthermore, his sister, Susan Coyne, is an actress renowned as one of the co-creators/co-stars of the award-winning TV series Slings and Arrows. 
Read Also: Margaret Carlson Bio, Age, Husband, Divorce, Family, Illness, Bloomberg
Coyne received his graduation from Kelvin High School in Winnipeg and subsequently studied at the University of Manitoba where he also served as the editor of The Manitoban student newspaper. As the time passed by, Coyne polished his journalism career and had his stint on the Winnipeg Sun.
Later on, Andrew graduated from the London School of Economics with the master's degree in economics after receiving a BA in the same specialization from the University of Toronto's Trinity College.
Andrew Coyne's Career:
Following his academics, Andrew Coyne passionately thought of making a professional name for himself in the world of media.
Coyne joined The Globe and Mail's editorial board after serving for six years as a columnist for Financial Post until 1991. Courtesy of his impeccable editorial skills, Coyne bagged two consecutive National Newspaper Awards. Subsequently, in 1998, Andrew joined as a columnist in the National Post, where Canadian author Mark Steyn has written many of his interesting articles.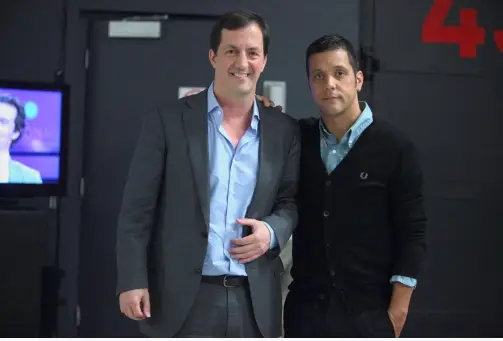 Andrew Coyne with CBC colleague George (Photo: cbc.com)
After leaving the Post in 2007, Coyne worked for a while at Maclean's and subsequently returned to the National Post in 2011. Since his reunion, Coyne has served as a regular writer and editor. Besides, he also has been the longtime member of the At Issue panel on CBC's The National. Also, Andrew regularly presents his strong views on Canadian politics and is the firm supporter of the federal government. 
Coyne Politically Active:
Being a columnist for the renowned newspaper, National Post, Andrew Coyne is often active with his columns related to various political affairs. He usually has endorsed an active market based economic solutions.
Besides, Coyne has backed the Canadian government for a stronger role in the War on Terror. The United States government launched the international military campaign after the September 11 attacks in 2001.
Don't Miss: Matt Lewis Wiki, Age, Married, Wife, Girlfriend, Gay, Height
Andrew Coyne, who belongs to white ethnicity, is also the supporter of proportional representation in the House of Commons of Canada. Plus, he also believes that Canada should remain a constitutional monarchy rather than become a republic nation.
Andrew Coyne Tied With Marriage Knot?
Among the media personalities, who always try to keep their relationship life secured and concealed from the public's reach, Andrew Coyne surely ranks the top. The talented journalist has never ventured to spill the beans whether he is married or dating someone. Besides, his past or present relationship status is an underlying mystery to many.
However, back on 10 May 2016, Andrew mentioned 'wife' word on his tweet which was rather the political one than personal. His status read,
"Okay, let's suppose I was willing to bring my wife's parents. The question, Barack, is what can you do to make that more likely?"
It is evident that by Barack, Andrew, who currently ages 58 years,  was referring to then-president Barack Obama. Besides, he sarcastically asked the president how he could bring his spouse's parents. Maybe, he was talking about the immigration situation. 
You May Like: Zoe Williams Wiki, Age, Birthday, Married, Husband, Children, Family
Fun Facts of Andrew Coyne
On 10 September 2018, Andrew tweeted about Donald Trump. He stated that The Ford-Trump look a lot more valid that day.

His mother, Margaret was a widow when his father, James tied a wedding knot and shared the wedding vows with her.

He has a younger sister named, Susan, who is now a writer and an actress.

His father, James Coyne, died at the age of 102 on Friday night in Winnipeg.

Andrew used to be on drugs and was a drug addict. He states that the addiction was one of the hardest things for him.

 Andrew shared the tips for writing a column. His advice included that people should be humble in front of their reader. He also said, get to the point, have a point worth taking, think hard about what you are bringing to the table, and write what is true.