Previously known as the first female columnist for Time magazine, Margaret Carlson is busy flaunting her media skills at Bloomberg News, an international news agency. She also served as a weekly panelist for CNN's Capital Gang from 1992 until 2005.
Besides her professional identity, the veteran journalist, Margaret, shares a personal life full of highs and lows. From being divorced to being an incredible single mother, she is influential in every perspective.  
Margaret Carlson's Wiki-Like Bio: Feat As First Female Columnist
Margaret Carlson was born and raised in her hometown of Camp Hill, Pennsylvania, by her parents James Francis Xavier Bresnahan and Mary Catherine McCreary. She shared her childhood with two brothers; Jimmy and Edmund. Despite keeping her actual date of birth and age confined, Daniel Lippman's 2016's tweet suggests she celebrates her birthday on 29 November every year.
Carlson had to go through a troublesome family crisis. Besides her parents' death, her brother, Jimmy, suffered from a severe illness. An epileptic seizure damaged his brain at birth. Despite the uncanny situation, Margaret pulled herself up with courage and determination.
Carlson attended Pennsylvania State University and did her B.A. in 1966. Later on, she joined George Washington University Law School and graduated from there in 1973. Subsequently, she generated massive interest in journalism and received an ample amount of support and motivation from her family to pursue her career.  
As an amateur, Margaret worked for the U.S. Department of Labor and three other agencies after completing her academics. Meantime, she stayed with her grandmother, Nellie McCreary, a maid at the Hotel Washington and former nurse's aide at St. Elizabeth's Hospital.
Carlson's media career hit high gear when she joined the Time Magazine in 1988 and later on became the first female columnist at the magazine in 1994. Before that, Margaret served as a managing editor at The New Republic, a liberal American magazine. Besides, she was a weekly panelist for CNN's political talk show, Capital Gang.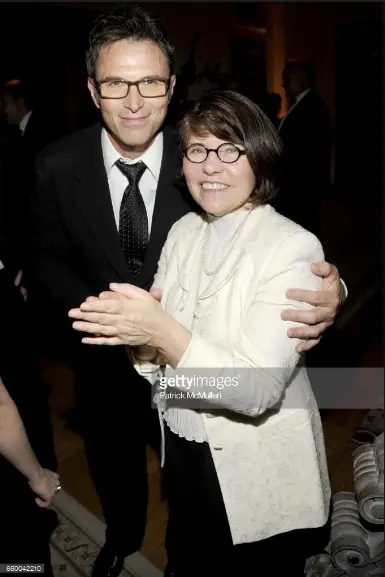 Margaret Carlson with Tim Daly in Bloomberg & Vanity Fair Cocktail Reception on 9 May 2009 (Photo: gettyimages.co.uk)
After having a blasting stint at The Time, where she covered four presidential elections, Carlson left the magazine and joined the Bloomberg News, an international news agency, in 2005. Since then, she serves as a columnist for the network.   
Shares Special Relationship With Daughter!
Though her marriage failed her big time, Margaret Carlson has got what it takes to be a wonderful mother. Margaret was married to her husband, Eugene Carlson in 1972. However, the pair couldn't keep pace with one another and filed a divorce to break the wedding vows.
Despite the disastrous moment in her life, Margaret never missed a chance to caress the future of her daughter, Courtney Anne Carlson, who was conceived in 1975. Courtney is a vice president for public affairs at the Fund for the Capitol Visitor Center, Washington.  
Courtney married to David Paul Yarkin, after falling for one another at first sight. Since sharing the wedding vows in 2001, the couple shares the blissful marriage voyage with the company of three beautiful children. Meanwhile, she remains close to her mother, who always supported on her remarkable life journey.