Anastasia Soare is a Romanian-American entrepreneur, who got the spotlight as the CEO and founder of one of the fastest-growing companies in the world, Anastasia Beverly Hills. She is well-known for initiating the brow shaping method in the American salons.
In her years of career, she has worked with some of the renowned celebrities such as Oprah Winfrey, Jennifer Lopez, and Kim Kardashian. Moreover, her success story has been featured by several publications, which include The Guardian, People, The New York Times, and Vanity Fair.
Other than entrepreneurship, Anastasia has also appeared in different TV shows such as The Doctor Oz Show, America's Next Top Model, and The Oprah Winfrey Show.
Wiki-Like-Bio
Hailing from the suburbs of Romania, Anastasia Soare was born on 28 December 1956. Her birth sign is Capricorn.
She is the daughter of father, Dumitru Balamaci, and mother, Victoria Babu—both were the owner of a tailor shop. Sadly, she lost her father when she was just 12 years old.
A Talented Actress: 'Riverdale' Star Asha Bromfield Wiki: Age, Parents, Siblings
For her education, Anastasia studied art and architecture at Rumania's College of Construction and Architecture. After that, she enrolled at a beauty school and learned about beauty tips and more for almost three years.
Later, in 1989, Anastasia moved to Los Angeles and began working at a beauty salon.
Married Life
Anastasia Soare was married to a ship's captain, Victor Soare.
They first met through mutual friends while they were in Romania. Afterward, they quickly formed a bond. Finally, in 1978, Anastasia and Victor shared the wedding vows. Together, they even welcomed a daughter named Claudia in 1987.
Unfortunately, Anastasia and Victor's togetherness wasn't meant to last forever as they divorced in 1994.
About Anastasia's Daughter
Anastasia Soare's daughter, Claudia, goes by the full name of Norvina Claudia—named after her late grandfather. She was born in Romania but spent most of her time in the United States.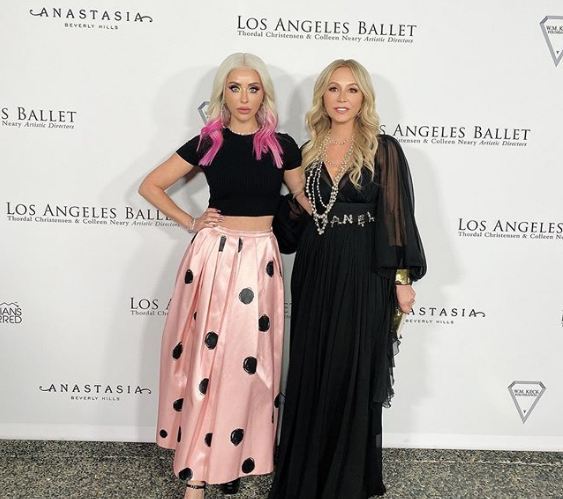 Anastasia Soare with her daughter, Norvina Claudia at Los Angeles Ballet on 29 February 2020 (Photo: Norvina Claudia's Instagram)
Just like her mother, Claudia is also involved in the field of beauty. She is the president of her mother's company, Anastasia Beverly Hills.
As a president, she looks over the company's product development, day-to-day operations, and handles the marketing for the brand's best-selling prestige cosmetics line. In her years with Anastasia Beverly Hills, she has shown some major leadership skills and has taken major decisions too.
Talents From The United States: A Look At Cynthia Daniel's Married Life With Cole Hauser
She describes her role in Anastasia Beverly Hills as a task that aligns her mother's vision with the dynamic voice of the customers.
Net Worth
According to Celebrity Net Worth, the Romanian American entrepreneur plus television personality, Anastasia Soare has managed to make a net worth of $1 billion.
Some Interesting Facts Related To Anastasia Soare
Anastasia Soare has contributed more than 25 years in the field of beauty.

Her company's Instagram account has garnered more than 20 million followers.

Her daughter is officially known as Claudia Soare—uses it in all of her certificates and documents.

In 2018, her company was valued at almost $3 billion.

As of now, her company sells over 480 products in more than three thousand stores. The products have an estimated value of more than $375 million.

Anastasia has established The Anastasia Brighter Horizon Foundation to support young adults exit the foster care system.