Allison DuBois is a renowned American psychic and author best known for the CBS' TV series, Medium which is based on the life of her. In the show, all her family members are portrayed by different actors and she is portrayed by actress, Patricia Arquette. 
As a psychic, she claims to have served many law enforcement bodies, helping them in solving many crimes and finding missing persons using her ability to communicate with dead people.
And as an author, she has written five books; Don't Kiss Them Good-bye (2004), We Are Their Heaven (2006), Secrets of the Monarch (2007), Talk To Me (2011), and Into The Dark (2015). Her first two books had become the New York Times Bestseller.  
Allison DuBois' Bio: Family
Allison DuBois was born on 24th January 1972 in Phoenix, Arizona, USA. 
Her father, Mike Gomez, and mother, Tienna DuBois were divorced when she was a baby. When she was twelve-year-old her mother remarried. Growing up she lived with her mother and stepfather while rarely visiting her biological father. Her father passed away in 2002. She has a brother named Michael.  
Meet Another Author: Jane Fallon Bio: Relationship With Ricky Gervais, Married Status Revealed
Allison attended Corona del Sol High School in Temple and North High School in Phoenix, Arizona. However, she dropped out of both and obtained her GED certificate at the age of 16.
She went to Arizona State University and while studying she also interned at the Phoenix District Attorney's Office. She graduated with a B.A. degree in political science from the university. 
Married & Children Details
Allison DuBois is married to her husband Joe DuBois, an aerospace engineer. 
TV Personality: How Old Is Alex Blumberg? His Bio Unveils Net Worth, Wife, Family Details
The couple is blessed with three daughters; Fallon DuBois, Sophia DuBois, and Aurora DuBois. Sophia is a dancer and a comedian.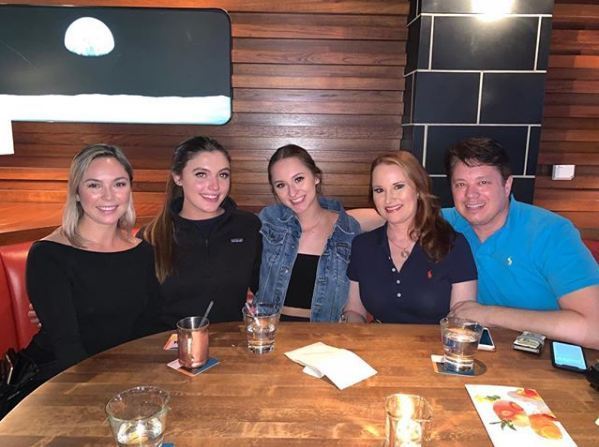 Allison DuBois with her husband and daughters on 26th June 2019 (Source: Allison DuBois' Instagram)
Allison and Joe met for the first time at a sports bar in Temple, Arizona and tied the knot in October 1993 at St. Francis Cathedral. 
Net Worth
Allison DuBois has a net worth of $200 million. 
Interesting Facts
Allison DuBois' husband, Joe gave her a garnet ring for her birthday in 2015. 

Her daughter, Sophia began dancing in 2003 in Phoenix at the Regency Dance studio, the same studio which she attended as a child. 

Reportedly, it is said that her daughters have also inherited her psychic abilities. 

She claims that she realized that she had special abilities at the age of six after speaking to her dead grandfather. 

In 2005, she was offered a reward of $1 million by a skeptic, Randi Paul to get tested for her psychic abilities. However, she refused the offer. 

Paranormal science experts and skeptics like Ray Hyman, James Randi, and Paul Kurtz have questioned Allison's psychic abilities. 

A short documentary titled The Real Allison DuBois was also made in 2006.