Jane Fallon is a British author of several best-selling novels, including Getting Rid of Matthew (2007), Got You Back (2008), Foursome (2010), The Ugly Sister (2011), Skeletons (2014), and Strictly Between Us (2016), amongst others. 
In 2018, her yet another literary work, Faking Friends, was nominated in the 'Popular Fiction' category of the National Book Awards. The book further got long-listed for the "Comedy Women In Print" prize in 2019. 
Jane Fallon's Bio, Age 
Before writing books for a living, Jane worked as a television producer. Her famous works can be observed in acclaimed TV series like Teachers (2001), 20 Things to Do Before You're 30 (2002), EastEnders (1985–1994), and This Life (1996–1997). 
Intriguing Read: Liane Balaban Married Life With Husband, Also Bio & Movies
Jane was born on the 9th of December 1960 in England. She grew up in a harrow neighborhood in London. 
She went to University College in London in 1982, the same time and place where she met her beau of over 30 years, Ricky Gervais. 
About Ricky Gervais 
In 1984, following college graduation, both Jane and Ricky lived in a one-room place called Kings Cross, a "really tough area." 
Remembering the early days, Ricky confessed in an interview that it was all they could afford for at that point. 
After failing as a pop-star, Ricky then worked his way through at a corporate job. Eventually, people in the U.K. started recognizing him as the host of a comedy talk show. 
However, it was his sitcom, The Office—he wrote, directed, and starred in, that finally landed him the prominence that he forever deserved. 
In the beginning, when the series was still airing, Ricky and his co-creator earned a small fortune, but it was wondrous once the show sold into syndication. 
And, today, he accumulates a net worth valued at $130 million. 
"Married In Everything But The Ceremony!" 
Jane and Ricky never married despite the decades they spent together.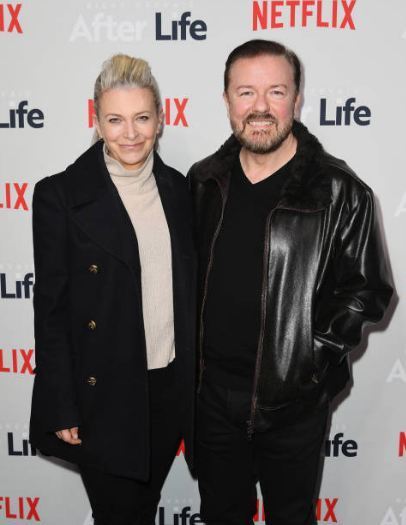 Jane Fallon and her Comedian-boyfriend, Ricky Gervais attends the "After Life" For Your Consideration Event in New York City on 7 March 2019 (Photo: gettyimages)
It is just the ceremony that they did not go through, said Ricky to The Daily Telegraph back in January 2016. 
We are married in everything but the ceremony. We share everything and everything is in both names. We've lived together for 29 years — how are we not married except in the eyes of God?
Last heard, the star-couple also chose not to have any kids. Citing the world a difficult place to live in, Jane stated back in 2008 that one should not be having children unless "you really want them."
Briefly Glance Over: Debs Howard Bio: Height, Movies, Family, Who Is Her Boyfriend?
Meanwhile, Ricky put his reasons for not having children on The Ellen DeGeneres Show during November 2017 as- with a baby, he would "worry" too much. The animal rights activist jestingly added-
I have a cat and I worry about that. I check the door three times before I go out. I put food and water in every room in case the door closes and he's peckish for 20 minutes.

There's loads of reasons why I don't have kids. The world is overpopulated, no one's sitting around going, 'Oh Rick's not going to have kids, we're going to run out, there's loads!
And, no matter their confessions, Jane and Rick are often asked to further comment on their decisions.
Interesting Fact!
Ricky has this way of trolling his lady love, Jane, by making witty hilarious comments, on Twitter.