A professional gymnast Alexis G. Zall turned herself into a YouTube sensation after she started her professional career by opening her self-titled channel. In her channel, she posts unapologetically weird and unique videos, which has allured the attention of many viewers.
Although Alexis started out as a competitive gymnast, she had to give up until an injury sidelined her upon reaching level 8. After her injury, she developed an interest in the field of acting and also began writing and hosting the series Pantry Bank. Gradually, Alexis began earning popularity.
In addition, she also starred in the Netflix original feature Coin Heist, Embeds, 12 Deadly Days, Modern Family, Ouija: Origin Of Evil, Laid In America, and Like Share Follow.
Alexis G. Zall's Bio- Height
Alexis G. Zall stands at a height of 5 feet 3½ inches (1.61 meters).
YouTuber You May Know: YouTuber Roselie Arritola Wiki, Age, Birthday, Parents & Interesting Facts
She was born on 16 June 1998 in Scottsdale, Arizona, the USA as Alexis Genevieve Zall.
Sexuality
In June 2016, Alexis finally decided to come out of the closet and openly talk about her sexuality. In honor of her 18th birthday, she talked about her emotional breakdowns—her up and down experience. On the positive note, while growing up, her b**bs got bigger.
Finally, she opened about her opinion towards sexuality and said;
"I'm about to get gay," and "It is totally OK to be a girl who likes girls or a boy who likes boys." 
Alexis further added, saying, she personally being a girl likes girls. After her coming out, at her birthday party, she and her friend had a freaking adorable mini dance party. Following the dance, Alexis added, saying that she was okay dating a guy as well.
"I mean, for me personally, I wouldn't necessarily rule out ever dating guys. But I definitely like girls and it's totally OK to just be that."
People present in Alexis' party everyone cheered and appalled her for being brave and opening about her sexuality.
Dating Life
Alexis dated Luke Korns in 2014. They first saw each other through social media and first met at Playlist. However, their relationship didn't last long and eventually parted their ways.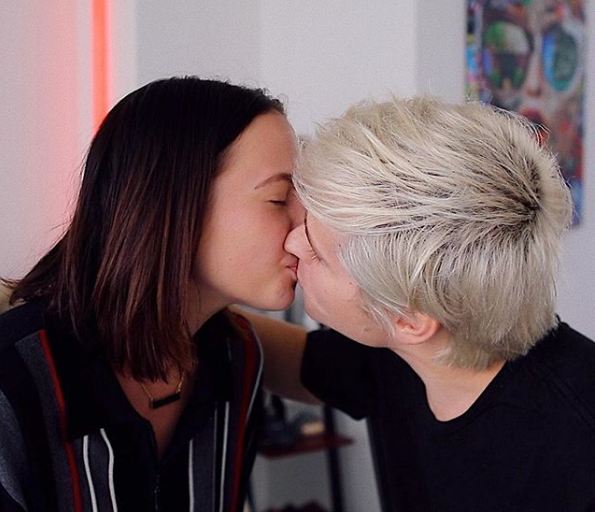 Alexis Zall and her then-boyfriend Luke Korns on 10 October 2018 (Photo: Alexis Zall's Instagram)
Later, through Twitter posts on 11 July 2019, it was revealed that Alexis and Weston Koury were dating and celebrated their third anniversary. However, as of now, Alexis has not openly talked about her relationship with the public.
Ex-Boyfriend Luke
Alexis' then-boyfriend Luke is an American YouTube star and internet personality, who stepped into the limelight with his videos in 2011 on YouTube. In his channel, he posts funny videos, weird and crazy videos.
Interesting: Openly Gay Scott Mills Dating status With Boyfriend; Family, Net Worth
After gaining popularity from YouTube, he also gained more recognition after being collaborated with personalities like ConorFranta, Chris O'Flying, Turner Lux, and many more.
Interesting Facts
Alexis has a siamese cat named Confucius.
She got her first tattoo at the age of 20.
She colored her hair Pink and flaunted her hair on her Twitter on 24 July 2018.
She played the role of Ayla Walker in the series, Spirits.
She has 415 thousand followers in her Instagram account and 1.11 million subscribers on her YouTube channel