Alexi Panos is a brilliant author, artist, singer, and philanthropist who is one of the most popular Greek-American thought leaders in the Emergent Wisdom Movement. She shares inspirational content online and motivates people by sharing her experiential speeches.
Alexi Panos Married, Wedding 
Alexi Panos' love life turned pages like it was a fairy tale. She met the man of her dreams, Preston Smiles, fellow motivational speaker when they were both working on a workshop but didn't realize anything then. The fate had written something else for them as they met again in California on poetry night. Preston instantly knew at the moment that they were destined to be and that she was his woman whereas, Alexi was still not sure about the co-incidences that took place. They talked that night and decided to meet up for work the next day. Work meeting instantly turned into a date as they got to know about each other more than ever. This date made them realize that they were in love with eachother and that's when Alexi and Preston started dating officially as a boyfriend and girlfriend. Preston who was head over heels for Alexi got on one knee and asked her to marry him to continue their relationship as one. Alexi said yes, and the wedding was held on 2 July 2016 in Oia, Thira Santorini. Their married life as a husband and wife got more beautiful after they got pregnant with their first child. Alexi and Preston welcomed their son Kingston Ra on 8 February 2018.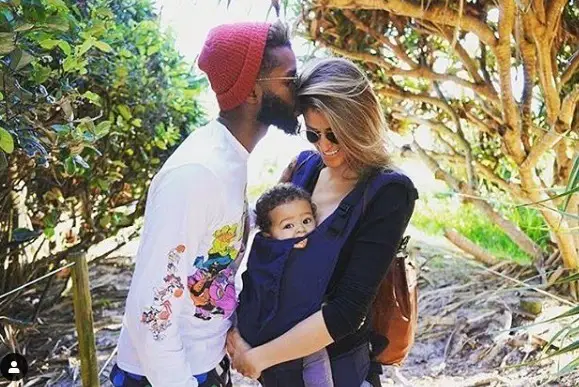 Alexi Panos goes on a trip to Byron Bay with her husband Preston Smiles and son Kingston Ra on 24 November 2018 (Photo: Alexi Panos's Instagram)
This happy family is living their best life going on trips and traveling the world together; Fans are more than happy and excited for the adventures they will go on.
Alexi Panos Bio
Going back to her childhood, Alexi was born on 10 September 1983 in Erie, Pennsylvania, USA. Alexi was raised by her parents Greg and Riana. Back in school, she was into academics as well as into athletics. She participated in soccer, track, volleyball, basketball, etc. After discovering her interest in the entertainment field, Alexi decided to move to Ventor along with her mother to pursue her singing career. She entered the world of entertainment and became a part of creativity and arts at a very young age. Having full support of your parents is a blessing and Alexi had that immense support from her family. 
Alexi Panos Career
Alexi started her career as a singer at a young age. From age 18 to 21, Alexi toured the globe with the Murder Inc. performers. She got to sing on a feature track "Murder Me" from Ja Rules in 2002. Alexi also sang for the track "Caught Up" from Ja's "R.U.L.E." album in 2005. 
Talking about her career in modeling, she had a start with her modeling career at her 20s. She worked for brands like American Eagle, Health Magazine, Miracle suit, Oral-B, etc. As a model, Alexi became a part of television productions where she worked as a presenter. She reached the height of her career after hosting HGTV's 'Run My Makeover' which is a home design show. Not only that, but she has also produced the web travel series called Ultimate Quest. In 2014, Alexi appeared as the host of Operation Build. 
Don't Miss: Nadine Caridi Wikipedia, Children, Today, Divorce???????
Alexi gathers from her experiences and puts them into producing something that people would find inspirational. She co-founded The Bridge Experience along with her husband. Alexi and Preston have supported many people who have dramatically changed their lives by participating in their various workshops all over the world. She has also written books like 50 Ways to Yay. Her massively successful career has helped her garner a vast net worth.