Alexi Ashe Meyers is professionally a Human Right Attorney, whose work against trafficking named her one of New York's best Abolitionists. She is publically known to be the wife of the comedian, Seth Meyers from the show, Late Night with Seth Meyers.
In January 2018, Alexi became a member of Human Right First's board of director. Since then, Alexi has been actively working as a pro bono in the cases against domestic violence, sex trafficking, and similar gender-related cases.
Alexi Meyers Wedding With Seth Meyers, Kids
Despite being two opposite poles in terms of career and schooling, Seth Meyers and Alexi Meyers have beautifully sustained their relationship and turned it into a happy family.
Seth and Alexi got married on 1 September 2013 at a star-studded wedding ceremony in Martha Vineyard, Massachusetts. On the rehearsal of their wedding, Alexi suffered from food poisoning which nearly postponed the ceremony.
However, their wedding took place on the planned date as Alexi seemingly walked in with a bouquet in her hand, flawlessly carrying her weighted wedding gown despite her illness.
They had dated for five years before they got into marital ties. Before he met Alexi, Seth only had some casual dates. Alexi's beauty and humbleness blew Seth in the very first meeting.
You May Like: American Comedian's Dov Davidoff Age, Married, Wife, Tour, Crashing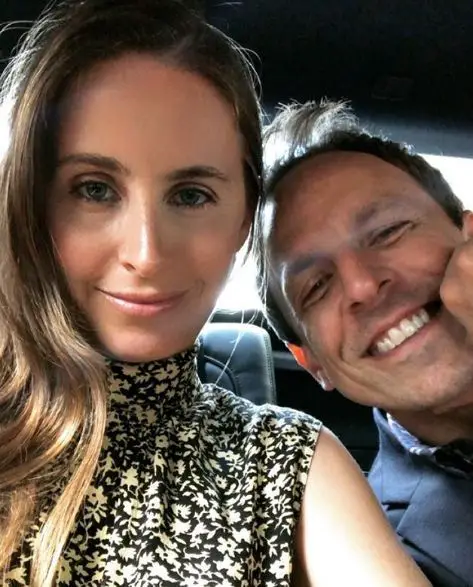 Alexi Meyers and Seth Meyers head for a date night on 5 June 2018 (Photo: Seth Meyers' Instagram)
Alexi and Seth had attended a wedding ceremony as guests, where they met for the first time. Seth, who was semi-famous at the time, called it love at first sight.
They have, to this date, become proud parents of 3-year-old and 1-year-old handsome boys.
Alexi gave birth to their first son, Ashe Olsen Meyers and second son, Axel Strahl Meyers on 26 March 2016 and 8 April 2018 respectively.
As a feminist, Alexi was concerned about her kids not getting their mother's name, so she gave her first son her own name and the second one got his middle name from his mom's grandparent's name.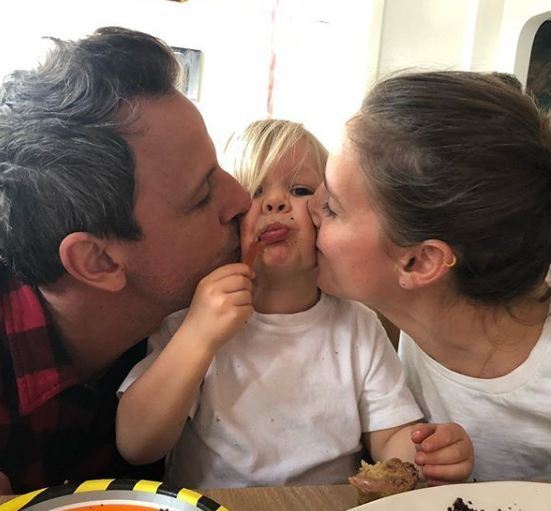 Alexi Meyers and Seth Meyers kiss their elder son Ashe on 28 March 2019 (Photo: Seth Meyers' Instagram) 
The birth story of Axel in an interesting one as he was born in their own apartment. When Seth, Alexi and her mother were moving downstairs rushing for the hospital, Alexi said that she couldn't make it to the car and the baby was just born in the lobby of their house.
Alexi's Bio - Age, Parents
Alexi Ashe was born in New Mexico on 1 April 1983 as an American by nationality. She is the younger daughter of her parents, Tom and Joan Ashe, elder one being Ariel Ashe, an interior designer based on New York. Ariel was a medium through which Seth and Alexi met as she worked in Seth Meyers' show as a set designer.
Also See: CNN's Laura Jarrett Wiki, Bio, Age, Married or Single, Salary
Alexi joined Occidental College after graduating from high school to pursue Bachelors of Arts degree in Political Science and Government. She then went to Southwestern University School of Law and received a Doctorate of Law degree in International Human Rights in 2011.
Her dedication in the legal field from a very early age helped her to achieve her goals and made her stand firmly as a lawyer, a social worker, a feminist, an activist and additionally, supported her to run her family well.
At the very age of 36, Alexi has been a perfect wife to her husband and an ideal mother to her kids.
Alexi Meyers' Net Worth
Alexi, who has been actively advocating against trafficking and violence has been providing free services to the victims of those social crimes. Moreover, throughout her terms in the legal field, she has worked in many areas.
Alexi worked as a policy and research analyst, wrote a legal guideline for lawyers against trafficking, conducted research in protection protocol and also worked as a grants writer and legal intern in the Oprah foundation.
Her personal net worth cannot be predicted as in most of the cases, she worked to provide free services. 
However, her husband Seth, who predictively stands at the height of 5 feet 10 inches (1.5 meters), has been in show-biz for many years now, so there is no doubt that his hosting career has earned him a good amount of money and property. His net worth is predicted to be $12 million.