Alexei Brovarnik found his soulmate at the time and place he least expected. Alexei met the beautiful American woman, Loren Brovarnik when she was visiting his homeplace, Israel in a holiday. Alexei fell in love with her right away, so much that he moved to the states to be with her. 
Alexei is the 'foreign fiance' who moved to the states to get married to his girlfriend, Loren. They starred in the third season of 90 Day Fiance and then later reappeared in the spinoff, 90 Day Fiance: Happily Ever After?.
Alexei Brovarnik Dating Girlfriend?
90 Day Fiance, a TLC's original show, follows the life of Americans who have international partners and are looking forward to getting married. The couples are involved with the K-1 Visa process and have 90 days to sort out their affairs and get married before the foreign fiance's visa expires and are compelled to leave the States.
Alexi and Loren too became the part of the show to extend the course of their dating life and to seek their 'happily-ever-after.' 
At first, Alexei faced some challenges in moving to the states. It was not easy for him to stay away from his family. However, his wife was always there for him. 
Look For: Kevin Pereira Girlfriend, Dating, Gay, Partner, Split, Parents, Net Worth
Together, they are also persuading their parents to move in with them to the states. The 90 Day Fiance pair is immensely engaged in making their life better despite their challenges, disagreements, and secrets.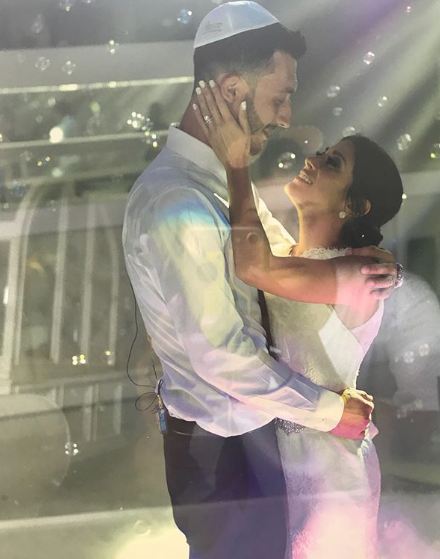 Exchanging Vows: Alexei Brovarnik and his Wife, Loren Alexei Brovarnik on their second wedding held on 21 July 2016 (Photo: Loren Brovarnik's Instagram)
From falling in love in 10 days to exchanging vows twice, they have grown together as an exemplary couple and proved wrong to the negative predictions on their 'happily-ever-after.' 
In fact, on 17 December 2018, they raised champagne to their five years of togetherness. They have plans to have beautiful children and grow old together raising them.
90 Day Fiance Duo Expecting Baby?
After all these years of being together, the reality show-made couple has finally started planning to extend their family. Fans are all well aware of Loren's excitement to extend their family.
However, Alexei is seen not so ready to have a baby as he has many greater preferences as of now.
Many fans speculated Loren to be pregnant after she shared the picture of her pillow talk with her husband. But she made it clear that she was not pregnant.
Later in the show, Alexei and Loren were seen in a conversation regarding having a baby. Loren begged her husband to start off a family with her. But the couple settled up their conversation with an agreement to have a baby in the year 2020.
Hopefully, both Alexei and Loren stand on their plan and have their first baby by 2020 as their fans are equally excited about the baby of the reality couple.
Alexei Brovarnik's Short Bio
Alexei Brovarnik was born in Ukraine. He moved to Israel with his family when he was only ten years of age. He grew alongside his brother, in the family of four. He is very connected to his family. 
Recommended: Ayisha Diaz Bio, Age, Boyfriend, Family
The reality star celebrates his birthday on 10 August, the same day his father, Alik Brovarnik enjoys his.
Alexei is blessed with the good looks. His envy-worthy height and stunning body-built can lead people to think of him as a model.
His Net Worth / Job
Alexei worked as a paramedic before he met Loren. However, specifics on Alexei's current job is not known.
The show, 90 Day Fiance, may have turned him to become a minor celebrity. However, it rarely promises its participants riches.
As soon as Alexei moved to the States, the couple relocated to Florida to live with Loren's family so that they could save money, which accounts for his not-so-good financial state.
Being in the show, however, may have added to his existing net worth.
His somehow growing fame might even land him some modeling affairs in the coming days.