Ahmed Hirsi is the senior policy-aide of Alondra Cano- the Ninth Ward on the Minneapolis City Council.
Besides this professional intro of him, Ahmed is best known for his marriage to his Somali-American wife, Ilhan Omar, a politician serving as the U.S. Representative for Minnesota's 5th congressional district since the year 2019.
Both Ahmed and Ilhan are Somalian-immigrants who eventually earned ranks in US politics.
Ahmed Hirsi's Married Status With Ilhan Omar
As of the 5th of November 2019, Ahmed and his 'Democratic' wife are no longer tied to their wedding vows- exchanged back in 2018.
The sacrament was officially dissolved after the paperwork was signed by the court personnel.
Continue Reading: Humza Yousaf Wiki, Wife, Family, Net Worth
The couple who now shares three children between the ages, 7, 13 and 16, underwent a far more complicated relationship than a year-long union.
They were actually married to each other religiously in 2003. The couple had two kids before putting an end to their marriage (legally not recognized) in 2008, only to get married legally in 2009.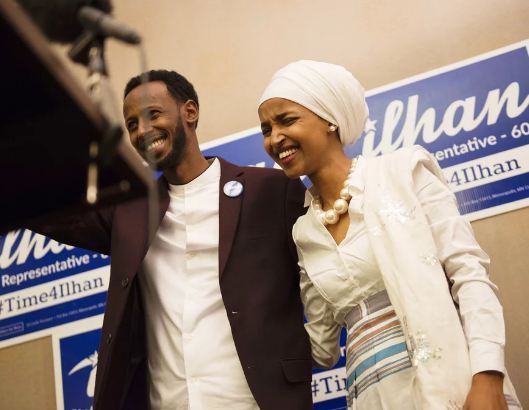 Ahmed Hirsi and his wife Ilhan Omar spotted back in 2016 (Photo: people.com)
Yet again, in 2011, they decided to go separate ways but were not lawfully divorced until 2017.
Eventually, in 2012, Ahmed and his long haul beau got back, welcomed their third child, and on the 5th of January 2018, they got married as per the US laws.
And, now that they officially split for the third time, with two legal divorces, Ilhan reportedly moved out of their home in Minneapolis.
Divorce Reason
Although it is too soon to pinpoint the reason behind their separation, it was Ilhan who filed an appeal saying there was an "irretrievable breakdown" in their marriage.
The divorce followed months after a "Washington, D.C. woman" accused Ilhan of having an affair with her husband.
But then, when asked if she was dating someone, she only put- "No, I am not." And, since she further declined to discuss her personal life, only time will reveal what really underwent between the spouses. 
Ahmed Hirsi's Wiki, Age 
Ahmed, 39, was in his early teens when his native land got severely affected by the civil conflict.
Peek-a-boo: Cory Booker Gay, Wife, Parents, Ethnicity
The political turbulence was what pushed his family, one of many, to leave the place, aiming for a better-leaving arrangement in the United States. 
Although people have raising-eyebrows to know more about his family, his brother, and his sister (if he has one), Ahmed prefers to keep his personal life away from the media and public scrutiny. 
His Job
As per the PJ Media report suggests, Ahmed was fired from his job- working for Minneapolis Councilwoman Alondra Cano by none other than his now-ex-wife, IIhan: with the sole aim that he would become financially dependent on her.
It further claimed that Ahmed, after the termination from the job in June, was raising their children for the majority of 2019.