The environment you grow up in makes a significant impact on what you take up as a career in future.
Abou Thiam, the son of a legendary drummer and the younger brother of a musical superstar, is the best example of this. Inspired by his father and brother, Abou ended up taking music as a career and stood up perfectly to make his separate identity in the music industry.
Abou Thiam Wiki / Bio, Brother Akon
Abou Thiam, often referred to as Bu, was born to legendary drummer Mor Thiam on 25 March 1982 in New Jersey.
His parents were initially from Senegal, West Africa. He is also the little brother of the singer, songwriter, rapper, record producer and businessman, Akon.
Bu was the youngest person ever to be named the Vice-President of A&R at Def Jam Records at the very age of 28.
His Career, Net Worth
Just like every other younger brother, Bu followed Akon from the very beginning of his career. He got to handle A&R for his brother Akon's multi-platinum album, Trouble. 
T-Pain was the first artist Bu signed in 2005. T-Pain's first album was a hit, which boosted Bu's confidence about the career path he chose for himself.
In today's time, Bu works as a music executive and a businessman.
Along with his brother Akon, Bu has also been through various controversies. In December 2016, both the brothers were sued for millions by producer Leland Clopton for hiding financial statements to avoid paying royalties.
You May Also Like: Zach Clayton With Girlfriend? Dating Status, Age, Height, Parents, Siblings, Family
Nevertheless, apart from his controversies, Bu also actively involves himself in working for social causes. 
In September 2018, Abou created one of the largest internet service providers in Senegal. His frequent visit to Senegal and the lack of internet there gave him the idea of integrating internet in Senegal.
His contribution to the internet facility in Senegal is far higher than the price of money he is sued for. So, the real depth of the royalty case for millions is still unreached.
Bu has been active in the field of music since 2005. His career is still in the rising phase which can be known from the increasing number of followers he's getting in his Instagram. There is no doubt of the fact that he has got a good amount of property and net worth.
His brother Akon, who stands at the height of 5 feet 10 inches (1.78 meters) has been one of the highly successful musicians of the time. Akon's net worth is predicted to be $80 million.
Abou Thiam's Dating History
Bu has a daughter, born in 2010, with a woman named Ariel Hakim. He used to provide $3000 per month to Ariel for child care.
Ariel had claimed for more money after two years and had left for another place with her daughter without giving him proper 30-day notice. So, Bu backfired at Ariel, declaring her act as a violation of his visitation right.
From 2011, Bu was in a serious relationship with Tracee Ellis Ross. Their relationship lasted only till 2013. However, Bu still claims to be in love with Tracee. In an interview in July 2018, Bu said that he was very much in love with Tracee.
See Also: Daryl Hall Wiki, Wife, Divorce, Girlfriend and Net Worth
Adding to this, Bu stated that he and Tracee would always remain lovers and any of his future girlfriends should understand this fact.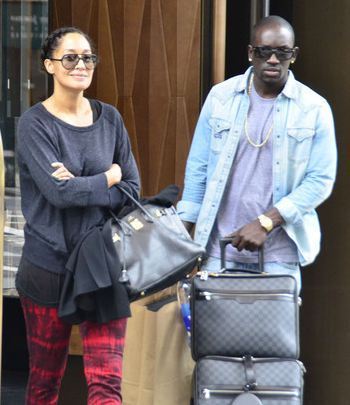 Abou Thiam walks out of Soho Trump hotel with then-girlfriend Tracee Ellis Ross on 1 June 2012 (Photo: zimbio)
The actual reason for their break-up is still not apparent. However, the only known fact is that Tracee's mother Diana was not happy with their relationship as Bu's image in media was of a polygamist.