American actress Zoe McLellan is best known for her roles as Jennifer Coates in the CBS legal drama 'JAG' (2001-2005), Lisa George in ABC's comedy sitcom 'Dirty Sexy Money' (2007-2009), and Meridith Brody in the CBS drama 'NCIS: New Orleans' (2014-2016).
Other than acting, she is also an inspirational speaker and had the privilege of addressing the Messenger Summit.
Zoe McLellan's Career
Zoe McLellan officially began her career on television in 1995 after she appeared in three different projects (Under Suspicion, Medicine Ball, and Mr. Holland's Opus). Later, she made a guest appearance in the drama series 'Nowhere Man' (1996), 'Sliders' (1996), and 'Diagnosis: Murder' (1999).
Actress You May Like To Know: Ruth Negga Dating Status & Parents Background
In 2001, Zoe portrayed the recurring role of Navy Petty Officer Jennifer Coates in JAG. After the series ended, she was cast as the wife of Peter Krause in the ABC soapy comedy-drama series Dirty Sexy Money but the series was canceled after two seasons in 2009. Later, in 2014, she played the leading female role, Meredith Brody, in the CBS procedural drama NCIS: New Orleans.
Now, she has 41 credits in movies and TV shows altogether.
Net Worth
According to Celebrity Net Worth, Zoe has an estimated net worth of $5 million.
Bio
Hailing from La Jolla, California, USA, Zoe McLellan was born on 6th November 1974. She is of Irish descent. She studied at South Kitsap High School. While studying in 1992, she was chosen as the homecoming queen in her high school. 
Married, Divorce
Zoe McLellan was once married to Jean-Pierre Guy Gillain from 27th February 2012 to 2016. While they were married, the couple welcomed a son named Sebastian.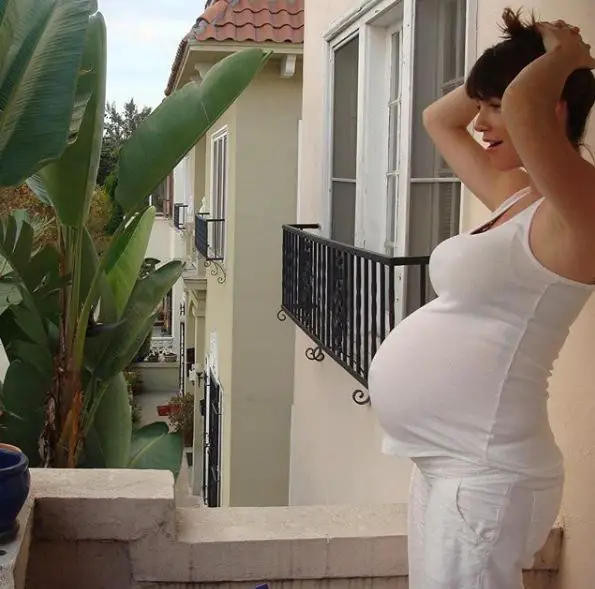 Zoe McLellan flaunts the old photo of her pregnancy with son Sebastian on 2nd November 2019 (Photo: Zoe McLellan's Instagram)
Sadly just after two years of marriage, the couple struggled financially and were unable to find work. Not only that, but they also got split in 2014 after Zoe filed for the custody of their son.
Their divorce was finalized in 2016 after the couple agreed on a visiting schedule for their son splitting time between his parents in New Orleans and Los Angels.
Ex-Husband Arrested For Sexually Abusing Their Son
While Zoe and her ex-husband J.P. were battling for divorce and custody of their son, J.P. was sexually abusing their son from the age of two until he was six. After the investigation, their son Sebastian told multiple law enforcement that his father would kill his mother if he ever opened his mouth about J.P.'s wrong deed.  
Finally, Zoe and her son Sebastian got justice after J.P. was arrested in the LASC Stanley Mosk Courthouse without bail. If convicted, Jean-Pierre will serve a mandatory life sentence.