Zawe Ashton is an English actress, writer, and director best known for her mind-blowing performances in the comedy series, Fresh Meat and Not Safe for Work. 
She is also praised for her role in several TV series, including Case Histories, Doctor Who, and Wanderlust.
She has further played in movies like Biltz, Weekender, Lapland, Nocturnal Animals, and Greta.
As a director, she is known for The Place We Go To Hide and Happy Toys.
Zawe Ashton Married To Husband?
Zawe Ashton is unmarried as of 2019. However, she can't hide her love affairs from the public.
She has been rumored to be dating her co-star, Tom Hiddleston, since February 2019. They have played husband and wife in Harold Pinter's Betrayal in 2019.
Since the release of the drama, they have been spotted several times outing together.
In August of 2019, Zawe was seen spending a night out with her possible partner in New York City. She was seen returning home with Tom from the bar, The 18th Room, in Chelsea. 
Read More: Zoe Margaret Colletti Wiki, Height, Parents, Movies
Also, in April 2019, Tom was spotted attending the launch of Zawe's debut book, Character Breakdown. They were happy and chatting romantically with each other.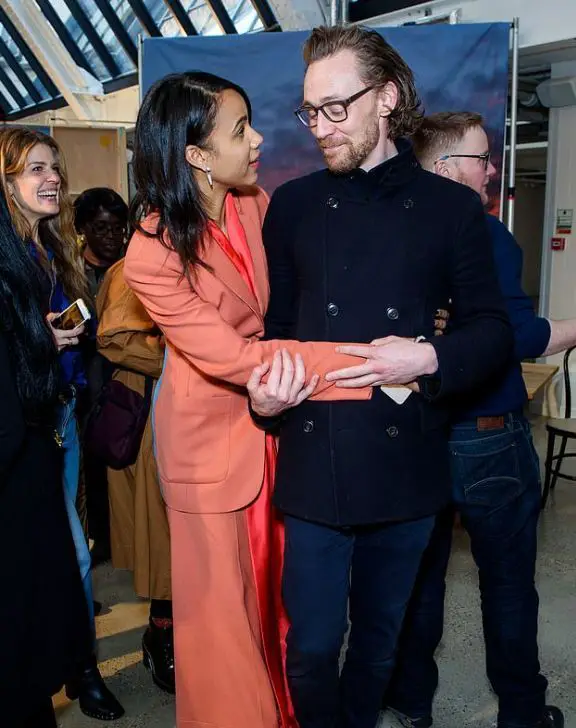 Zawe Ashton with Tom Hiddleston during the release of her book, Character Breakdown, at Wild By Tart in London (Photo: gettyimages)
Though the rumored pair have not confirmed their relationship, they were reportedly said hiding from their relation to avoid public attention.
Additionally, it was revealed that Tom didn't want their relation in public spotlight since his ex-girlfriend, Taylor Swift, drew quite the attention. 
Zawe Ashton's Age, Family
Zawe Ashton was born on 21st July 1984 in Hackney, London, with the birthname Zawedde Ashton. 
The 35-year-old actress is the eldest of the three children born to her parents.
Her mother, Victoria, was a design and technology teacher in London, whereas her father, Paul, was an English teacher. Paul also worked later at Channel 4 commissioning education programs for teachers. 
Zawe's mother, who arrived in England as a teenager, is originally from Uganda, whereas her father is an Englishman.
Her maternal grandfather, Paulo Muwanga, had briefly served as both president and prime minister of Uganda during the 80s. 
Zawe, standing at the height of 5 feet and 10 inches (1.78 meters), grew up in Stoke Newington, North London, with her family.
She attended Anna Scher School at the age of five since she was fascinated by acting, and her mother also encouraged her. 
At 6, Zawe became a member of drama school and played child roles in The Demon Headmaster, Holby City, and Casualty. 
After high school, she was determined to pursue acting as a career. So, she attended Manchester University's School of Theatre and graduated with a degree in Acting. 
Though Zawe had to struggle hard during the beginning of her career, she has now become a successful actress, writer, and director with several credits in TV shows and movies.