The Canadian actress of Vietnamese and Metis descent, Star Slade is known for her appearances in Burden of Truth, Frontier, and Emerald Code.
She has not just starred in TV shows but also theatres and dance productions such as 12 Angry Jurors, Forgotten, Best of Broadway, and Kaleidoscope.
Besides acting, the beautiful actress is also a trained ballet dancer who has learned various dance styles and genres.
As of now, Star has not made her presence in TV shows, but with the acting skill and talent she possesses, she might take her career even higher, receiving some fantastic roles in the movies.
Star Slade's Wiki-Like-Bio, Family
Star Slade's age, birthday, and date of birth is a mystery to her fans; however, looking at her, she is very young and might be in her twenties or less. As very less is known about the actress, her family background and education details remain undisclosed. 
However, on 16 May 2019, on the day of Mother's Day, Star opened up about her adoptive mother and when she left her home. She mentioned that she took the step to leave the house because she felt unsafe at home and struggled because of her mother.
On her 16th birthday, she left home and her foster mother and fled through the basement bedroom window at 4:37 am. After she left her home, she fled with her best friend and her best friend's family.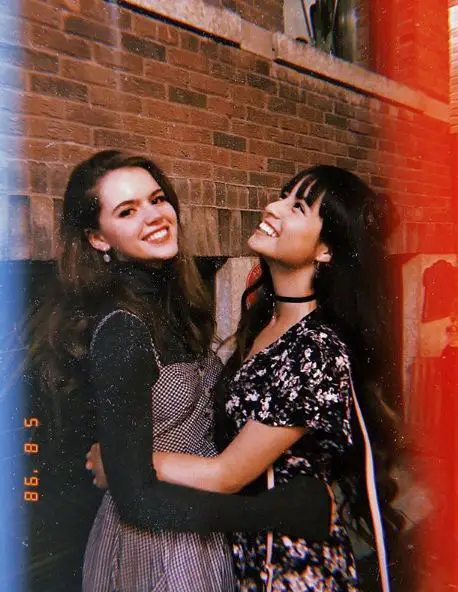 Star Slade with her best friend Anwen O'Driscoll on 18 August 2018 (Photo: Star Slade's Instagram)
When people judged her for leaving her adoptive mother, Star couldn't help but share her part of the story in her Instagram account.
Her story reflects that poeple should not be judged from only one side of the story and should step in their shoes to understand their struggle.
As of now, Star's best friend, Anwen O'Driscoll's mother has been a real mother to her.
Nevertheless, Star, who stands at an average height, holds Canadian nationality and embraces Asian-Canadian ethnicity.
Net Worth - Movies / TV Shows
Star first entered the entertainment industry to star in the TV series, Emerald Code, as Simone Lang in 2017.
Check Out: Kelsey Chow Ethnicity, Height, Boyfriend
However, to reach the top, she had to struggle for a living. At the age of 16/17, Star faced a lot of trouble to live. She even spent some nights on park benches, eating packaged ramen.
Despite being underage, she worked to survive, but she was scared of everything. She was accepted for a janitorial job in a sushi restaurant where she was paid $7 an hour. 
Eventually, her agent sent her for the audition, and she luckily got accepted for the role of Luna Spence in the TV series, Burden of Truth. In the series, she successfully won the heart of the audience, and hopefully, she will amaze the audience with season 3 as well.
Star has not disclosed her net worth and salary. But the average salary of an actor ranges from $22K to $38K as per neuvoo.ca.