Sami Gayle, who stars in Blue Blood as Nicky Reagon Boyle, is living her dreams literally. Thanks to her passion for dancing and acting, she fielded her acting debut at the tender age of 12. From being cast in the off-Broadway production, Gypsy starring Patti LuPone as 'Baby June,' to the present day, Sami Gayle's hard work and dedication have paid off. Well, considering her unique talents, it will take her to more places. 
It's inevitable not to have curiosities about the perks of being Sami Gayle. Let's uncover the less-known facets of her life, from networth, boyfriend/partner, family to her personal choices in general.
Sami Gayle's Bio: Age, Parents
Sami Gayle was born in Weston, Florida, on 22nd January 1996 to her parents, Larry Klitzman and Robin. Professionally, Sami's father worked as a Sunrise probate lawyer, and her mother owned a store.
Related: Lisa Boothe Married, Husband, Wedding, Parents, Boyfriend, Dating, Height, Measurements, Salary, Net Worth
Sami, age 25, showers great love and gratitude for her parents for being supportive of her choices in life, while the deep appreciation for great upbringing goes unsaid.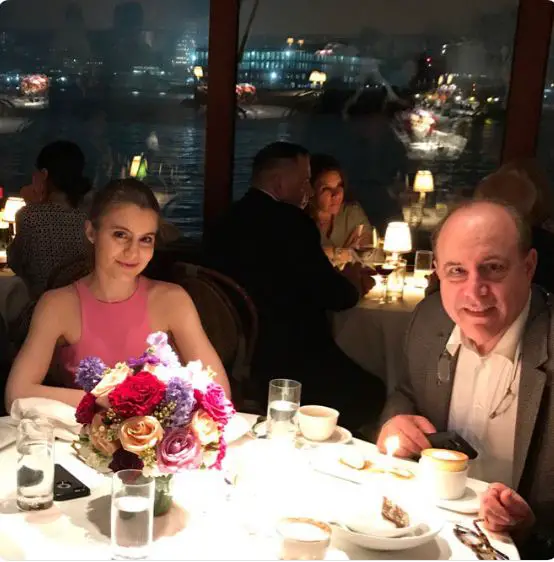 Sami Gayle dining with her father, Larry Klitzman on 18 June 2017 (Photo: Sami Gayle's Twitter)
Here's just another perk of being Sami, or an actor in basic, having a reel-life family, which often transcends into real life. Bridget Moynahan, who plays a mother to Sami in the series Blue Bloods, is a special person for Sami off-camera. 
This actress's charismatic personality should have been shaped by her family values, education, and experiences. Sami, then a Columbia University full-time student, her dedication spoke louder as she was still filming side by side in New York. Despite her crazy schedule, she aced her college exams. She double majored in Political Science and Art history. 
Sami stands tall at the height of 5'4 (1.63 meters); however, she has already surpassed that level with her excellent on-screen performances. 
Her Dating Life / Affairs
Sami started on her career way too young. Since then, she has been busy making a name for herself in the entertainment industry.
While some of her valentine's day was solely dedicated to History, Biology, and Calculus textbooks, some went by with "Valentine's cookies" for her onscreen Blue Bloods family.
See Also: Crystal Westbrooks Bio, Age, Height, Net Worth, College, Dating Status, Boyfriend, Family
Sami claims to be single as of now and seems to enjoy her growing fame. She might take a while to come open about her dating life.
Is Sami Gayle Gay?
Being famous has its downside. Sami Gayle being no different, is also often speculated on her personal affairs. She was rumored to be gay. It was primarily because of her being single or just some roles she played, which often confuse her fans. However, the rumors seem baseless.  As it may be, Sami has remained silent so far, not commenting on her sexual orientation. 
Career Details
Sami Gayle started her career doing some theatre plays before offering her career-defining portrayal of 'Nicki Reagan-Boyle' on the CBS series cop drama Blue Bloods in 2010. The show made her known to the TV audiences.
Sami made her film debut with the movie Detachment as a young prostitute opposite Adrien Brody in 2012.
Also, the same year, she starred opposite Nicolas Cage in Stolen. She made her striking appearance in the film adaptation of Vampire Academy, not to mention her roles in Hateship Loveship and The Congress.
Today, the young star has already played many notable roles in her showbiz career, which has earned her many fans and admirers.