Robin Stapler is a talented actress who is best known for portraying the role of Alixia in the television series Star Trek: Voyager (1997). She has also appeared in the series' fourth season in the episode named Mortal Coil. 
Besides that, she is seen playing various other characters on numbers of television series, including Martin (1996), Beyond Belief: Fact or Fiction (2000), In The House (1999), The Parkers (2000), and Diagnosis Murder (1996). 
Moreover, with her acting work, Robin has been able to gather warm love and respect from the audiences, even though she makes no screen presence these days. 
Ex-Husband, Divorce
Robin Stapler was married to actor Alfonso Ribeiro. But, their differences could not take their marriage any further than five years.
Know More: Is Stewart Francis Married? Who Is His Wife? Height, Family & Facts
Adding to that, they had tied the knots on 20th January 2002, whereas they divorced on 19th February 2007.
Moreover, Robin and Alfonso endured love since they fell in love at first sight. They saw each other for the first time while filming the series In The House in the year 1999.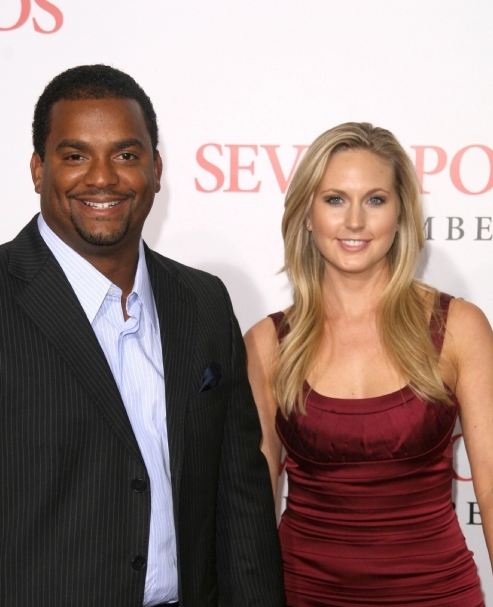 Robin Stapler and her ex-husband Alfonso Ribeiro captured together (Photo: Media3.hw)
Then, they started dating each other after a few good moments on the sets and dinner nights, followed by their wedding in the year 2002.
Everything About Alfonso Ribeiro
Robin Stapler's ex-husband Alfonso Ribeiro is an American actor who was born on 21 September 1971 in The Bronx, New York. 
Best known for portraying the character of Carlton Banks on the television series "The Fresh Prince of Bel-Air" alongside star-actor Will Smith has also hosted the shows like "Catch 21" and "America's Funniest Home Videos."
With his work as an actor, he has secured a net worth of $7 million.
Furthermore, after getting divorced from Robin, he got married to a blogger named Angela Unkrich in 2012, and they now have three children together. 
Daughter (Wiki)
When Robin Stapler and Alfonso Ribeiro were married, they had given birth to a beautiful girl, whose name is Sienna Ribeiro.
Interesting: Lauren Zima Bio, Age, Boyfriend, Net Worth
She was taken care of by both her parents, as her parents shared joint custody of hers after they separated. 
Moreover, Sienna, who was born on 7 October 2002, is famously known for her dancing and lip-sync TikTok videos. 
Four Things To Know About Robin Stapler
Robin has not married anyone after she divorced with Alfonso Ribeiro, although Alfonso got married to Angela Unkrich.
She had starred on a short film named The Disco Years in 1991 along with stars like Matt Nolan, Gwen Welles, and Dennis Christopher.
Her daughter Sienna had appeared in the 2015's digital short horror film Unwritten.
She had decided to quit acting. Hence, she has not been seen in any movies or television shows since 2000.