Following the footstep of her father and grandmother, she studied painting, drawing, and architecture from a very young age. Well, we are talking about the actress Rhea Seehorn, who is popularly known for her role on the AMC series, Better Call Saul.
Although Rhea continued her education in the visual arts, she also had a growing passion to become an actress. But she had no idea how to pursue the profession. 
Luckily, she got introduced to contemporary theatre in her college. But, she was not sure if that was the right course to take in. Filled with doubts, she remembered that her father had adviced her to follow her dreams.
So, taking her father's advice, she signed up for the acting classes and never looked back. 
Rhea Seehorn's Bio
Rhea Seehorn was born on 12 May 1972 in Norfolk, Virginia and is of 46 years of age. 
Though born on Virginia, she grew up in Japan, Arizona and Washington, D.C along with her parents. She graduated from George Mason University in 1994 with a Bachelor of Arts in Art Studio.
More From Actor: Cody Kearsley Wiki, Age, Height, Parents, Girlfriend, Dating
Rhea still has a close bond with her mother, Marlene Walters as she timely mentions her in her social media accounts. Her father, passed away when she was in her college. 
How Much Is Her Net Worth?
Rhea garners her net worth from her career as an American television actress. According to payscale, the average actor or actress in the United States earns approximately $51K annually.
The actress also gathered revenues from her stint at movies like Riders and Floating, The Pitch, The Gentlemen, and The Case Against Karen.
Rhea appeared in various theater shows like the Broadway production of 45 Seconds from Broadway, as well as roles in The World Over, All My Sons, Stop Kiss, How I Learned to Drive, Freedomland, and Marat/Sade.
Interestingly, she will be starring in the upcoming comedy movie, I Hate Kids.
Rhea Seehorn In Better Call Saul
Since 2015, Rhea Seehorn has been starring as Kim Wexler in the Television series, Better Call Saul. In the drama, the character of Rhea is a lawyer, and the job partner and love interest of Jimmy McGill played by actor Bob Odenkirk.
Through her mesmerizing acting stints and dedication in the series, Rhea has already won three awards. 
In 2016, she won the title for the Best Supporting Actress in a Series in 20th Satellite Awards. Moreover, she won the title again in 2017 in the 21st Satellite Awards and in 2018 in the 44th Saturn Awards.
Rhea Engaged To Be Married?
The television actress shared a romantic relationship with many actors onscreen; however, in real life, she chose a relationship away from Hollywood. She started dating 50-year-old Graham Larson in 2013. He is a real estate agent working in Pacific Palisades, the California, United States.
After dating for two years, Rhea's relationship fortified as she got engaged to her boyfriend in 2015.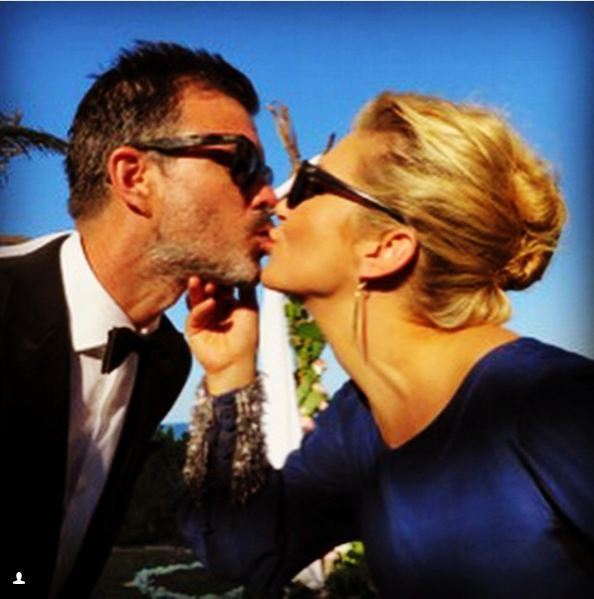 Graham Larson wishes his fiancee Rhea on her birthday on 12 May 2015 (Photo: Graham Larson's Instagram)
The news of Rhea's engagement came into the limelight only after she labeled Graham as her fiancé in her Instagram post. As of now, the engaged couple is enjoying their time together, and they can be timely seen expressing their affection towards each other in social media.
You May Also like: Jedediah Bila Married, Engaged, Boyfriend, Partner, Ethnicity
On 12 May 2015, Graham Instagrammed the picture of himself along with his fiancee Rhea, wishing her on her 43rd birthday via Instagram. Moreover, in January 2017, the couple celebrated their fourth anniversary together and shared a glimpse of their relationship on social media.
Interestingly, Rhea has so much love for her partner. She flew in to wish her fiance a happy birthday. But, she was so excited to celebrate that she wished him a day before his birthday, that should have been 25 May.
With love and affection for ech other, Rhea and Graham are happily engaged and are relishing their togetherness, they are only yet to get married and quote each other as husband and wife. 
Graham Is Rhea's Friend's Ex-Husband!
Interestingly, Rhea's fiancé Graham Larson is the ex-husband of her friend Mary Alice Haney, a fashion designer in LA.
It was Mary, who introduced Rhea and Graham to each other. 
Rhea met Mary in a salon, and they started talking about dating for over 30 mins. During the time, Mary said she knew a man with whom Rhea should date. Surprisingly, she set Rhea up for a date with her ex-husband, Graham Larson.
And that was the start of a beautiful journey between Rhea and her partner.
Read Also: Brittany Lopez Wiki, Bio, Age, Height, Relationship with Christian Slater
Besides that, Mary and Graham also shared two children, who are under the joint custody now. Rhea has a close bond with the children and treats them as their own. As of now, she is enjoying her motherhood and spends quality time with the kids. She even flaunts the relationship with them via her social media account.
On 13 August 2018, Rhea shared the picture of her kids along with her fiancé enjoying the day at Yankee's baseball game at Yankee Stadium.