American Actress Rebecca King-Crews is famously known for her appearance in TV programs such as E! True Hollywood Story and The Family Crews. 
Apart from being an actor, Rebecca is also a well-established gospel singer, songwriter, and musician.
Like her career, Rebecca's personal life has also prospered in the presence of a well-established actor husband. She has five adorable children. 
Rebecca King-Crews Bio: Former Miss Gary!
52-year-old Rebecca was born on 24 December 1965 in Benton Harbor, Michigan, United States.
She went to the Lew Wallace High School and graduated in musical theatre from the Western Michigan University. Rebecca was ambitious from her young age. So, she competed in different beauty pageants.
She was crowned as Miss Gary, Indiana in 1984 when she was just in high school. During her college, she performed with productions such as Oklahoma, The Wiz, Pippin, Evita, and The Music Man.
Rebecca initiated her acting career in the 1990's. She appeared in TV shows such as E!True Hollywood Story, The Mo'Nique Show and The Family Crews. As a famous actress, she was featured in several magazines like Heart and Soul, Jet, Reality Magazine, Today's Black Woman, and TV Guide.
Apart from being an actress and singer, Rebecca is also a much-sought speaker and lecturer.
She has given many inspirational speeches at many events including Uniquely YOU Summit in Philadelphia, Pennsylvania, The Well Done Awards in New York City, The Heart and Soul Awards in Baltimore, and The Tom Joyner Family Reunion in Orlando, Florida. 
With an astounding success, Rebecca has undoubetedly gathered god fortune. But the exact figure of her net worth and salary is yet to be disclosed.
Marriage Going Strong Amid Challenges
Rebecca, who belongs to the Afro-American ethnicity, is married to the famous American actor and footballer, Terry Crews since 1990.
The couple first met at the Western Michigan University and started dating. At the time, Rebecca had already given birth to a daughter named Naomi. Terry accepted Rebecca with her child and started a family. 
After their marriage, the pair subsequently welcomed four children: Azriel, Tera, Wynfrey, and Isaiah.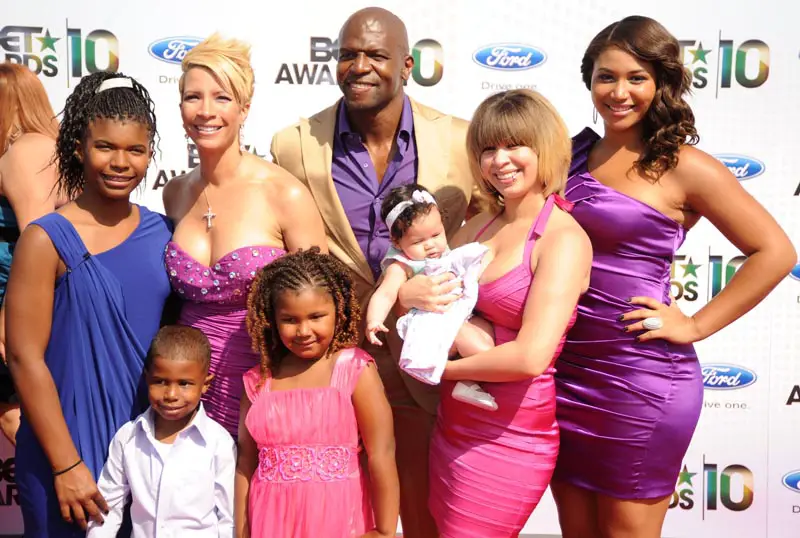 Rebecca King-Crews with husband Terry Crews and children (Photo: heightline.com)
Amid the family bliss, Rebecca once faced a bump in her relationship with Terry. The duo nearly broke up due to Terry's strange addiction to adult films. Terry admitted that he was out with prostitutes, and the confession broke Rebecca's heart.
But keeping their family in the top, Terry went for rehab and committed on being a better man. He was on therapy of 90 days without sex with his wife. The treatment worked and made Terry a better person as a husband and father. 
As of now, Rebecca's 28 years of marriage is going strong. She has even made plans of adopting a new child with her husband to add a member in their family