Olivia Su is a Chinese born American actress, social media star, dancer, comedian, and screenwriter best known as the regular cast member for the famous YouTube channel, Smosh, which she joined in March 2015. She is also the co-host of their web show Smosh's Seriously Stupid Sleepover alongside Courtney Miller. 
Apart from Smosh, she has appeared in hit TV series like Monk in 2005, CSI: Crime Scene Investigation in 2008, Date Night Fails in 2013, SHIFTY: Super Happy Fun Time, Yay! In 2014, Scream Queens in 2015, Game Bang in 2016, Winter Games 2017 in 2017, Chaos Wolves in 2018, Every Blank Ever from 2015 to 2019, and many more. Likewise, she has also acted amazingly in a 2009 movie A Trivial Exclusion. 
Bio, Age & Height 
Olivia Su has a height of 5 feet 6 inches (1.67 meters) and the bodyweight of 58 Kgs (127.86Ibs).
She was born in China on 14 August 1993. The American native embraces an Asian ethnicity.
Another Actress From China : Adeline Rudolph Wiki Reveals Age, Height, Parents, Ethnicity
When Olivia was 2 years old, her parents moved to America. By the age of 5, she found her love for dance, and henceforth, she started training as a ballet dancer. Later she competed in dance competitions throughout Southern California.
Who Is Olivia Su Dating In 2020?
Olivia Su is now dating Sam Lerner. The pair were initially introduced by an American actor and comedian, Shayne Topp, in 2018. He is the mutual friend of both Olivia and Sam.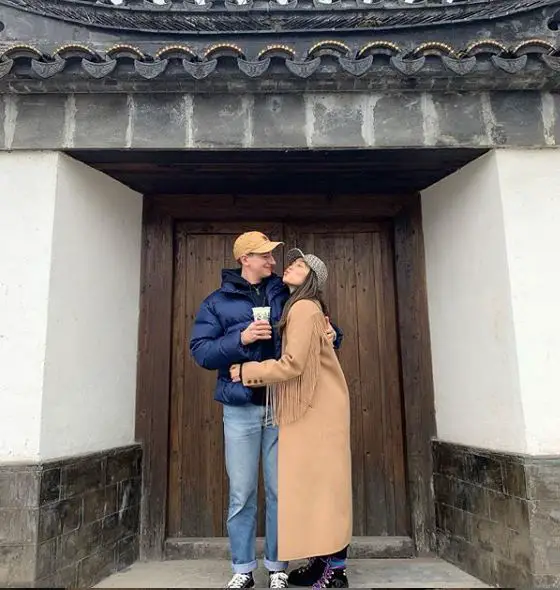 Olivia Su poses with her boyfriend Sam Lerner on 2 February in her birthplace, China (Photo: Olivia Su's Instagram)
They have been living together in an apartment in Los Angeles, California, United States. 
Boyfriend Sam Lerner
Olivia's boyfriend Sam Lerner is an American actor who was a nominee for the 2006 Annie Award for Best Voice Acting in an Animated Feature for the role of Chowder in Monster House. He has also starred in a film called Mono in 2016. 
Another Talented Actress: Michaela Coel Bio, Age, Height, Movies, Is She Dating?
Sam Lerner is the son of veteran actor Ken Lerner and a nephew of an actor Michael Lerner. 
Past Relationship
Olivia was in a long-term relationship with American photographer, James Law. She dated him from 2013 to 2018. During the time of their relationship, they made frequent appearances in each other's social media handles. Nevertheless, the exes have maintained good terms following the breakup. 
Facts You May Want To Know About Olivia Su
Olivia was born with the real name Olivia Mu Sui.
Her mother's name is Christine Zhu. 
She goes with a nickname- SmoshOlivia, Liv, Liv-Liv, Raindrop. 
In the past, she had dyed her hair black and pale Purple. 
Olivia's biggest fear is water, and she doesn't know how to swim. She is also deeply scared of butterflies. 
She is the biggest fan of Anthony Bourdain and loves watching Explore Parts Unknown. 
Olivia doesn't like to be called Sweetie. 
She would have pursued a career in teaching if she was not an actress and social media influencer. 
Olivia was bullied at school for being confident. 
She celebrated her first anniversary with her husband on 29 April 2019.