Natasha Halevi is an American actress, director as well as a writer.
She best rose to fame for her portrayals: 'Anaconda' in B.C.Butcher (2014), 'Alexis Shine' in They Want Dick Dickster (2014), and 'Cara' in Lunch Break Feminist Club (2015). In the last one, Natasha, besides being a part of the cast of the web-series, also directed it.
And, for her outstanding dual role, she won the "Best Ensemble Cast" at the Hollywood and Vine Film Festival in late-2015.
The award-winning creator, now, affiliates herself with Fatale Collective: a group of emerging female horror directors.
More Actress Born In Early-1980s: Gemma Whelan Husband, Dating Life, Movies & Net Worth Details
Working together, they won the "Directors Prize for Overall Cinematic Achievement" from FilmQuest for the film anthology Fatale Collective: Bleed in 2019, the same year it was released.
Natasha Halevi's Bio: Age, Parents
Natasha was born on the 12th of January 1982 in Ventura, California.
She was given the name 'Natasha' because her mother loved the American actress Natalie Wood to the extent that she decided to name her own daughter after Natalie; however, with a slight variation: thus the name Natasha.
Unlike Natasha, her sister followed in her parents' (aerospace engineers by profession) footsteps. She is a tech guru, and besides being a League of Legends nerd, she also worked on a few video game productions.
Gets Married To Famous Husband, Wedding Details
Natasha married Sean Gunn, the American actor, over a Saturday wedding on the 15th of June 2019 in Southern California's Catalina Island.
The couple decided on a "wedding picnic" theme for their big day.
Also, Married To Famous Actors: Jane Fallon Bio: Relationship With Ricky Gervais, Married Status Revealed
Their wedding vows were officiated none other than by Sean's director brother, James Gunn himself.
Unlike any other wedding, the event was distinguished by the colorful blankets spread across the lawn. On top of each blanket sat baskets with treats including trays filled with cheese, Rose, disposable cameras, vibrant sun umbrellas, and what not!
The attendees were given the dress code of "1920s disco ball goes to the beach. "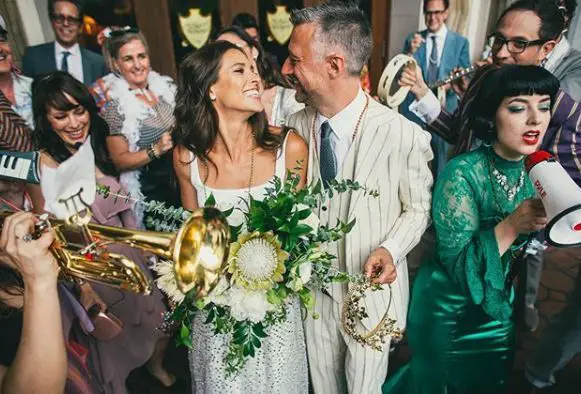 Natasha Halevi gets married to Sean Gunn on 15 June 2019 (Photo: Natasha Halevi's Instagram) 
More to the festive, the freshly married couple joined the guests in the "wedding parade" guided by their musically talented friends showcasing their skills over the trumpet.
Previously, Natasha and Sean got engaged on the 19th of June 2018 while seemingly on vacation in Halevi in Kyoto. For them, it all began in the year 2017, when they first met and started dating.
Net Worth
Natasha is not yet open about the riches she made from her career so far.
However, Celebrity Net Worth made it apparent that her husband, best known for playing 'Kirk Gleason' on the television series Gilmore Girls from 2000 to 2007, owns an estimated net worth of $6 million (as of May 2017).