Monyetta Shaw might describe herself as "I'm a MOM first" in her Instagram bio, but she is more than just a proud mother of her children.
She is a popular American actress known for Soul Men (2008), Volatile, and Video Girl (2011). Apart from that, she is also an author who has written "Bigger Than Me" and "The Adventures of Maddie."
Monyetta Shaw, the CEO of The Evan Grace Group, has appeared on VH1's Atlanta Exes that premiered on 18th August 2014. 
Monyetta Shaw Married / Engaged To Husband?
Every girl who gets immense love and care from her boyfriend wants to carry on the relationship forward and give it an official name of marriage.
Monyetta Shaw was no less as she got so much of love from her boyfriend, Ne-Yo, that she wanted to spend rest of her life with him together. But the love story didn't go how Monyetta thought it would.
Monyetta Shaw and Ne-Yo first met at a Jamie Foxx concert in 2009, and the two started to date each other as they enjoyed each other's company together.
Read About: Greg Davies Married, Partner, Dating, Gay, Height, Sister
A year later, when she got pregnant, both Monyetta and Ne-Yo became very happy as they were becoming parents for the first time.
They even got engaged in the same year when Ne-Yo, on his birthday, proposed to Monyetta for marriage in front of guests, and closed ones which initially made her cry out of happiness.
In 2011, Monyetta got pregnant for the second time after welcoming their first child, Madilyn. 
After Monyetta gave birth to her second child, she had mutually decided with Ne-Yo to undergo a sterilization procedure that would permanently end her fertility. 
Ne-Yo, being a popular singer-artist, used to live in Los Angeles for his work, leaving his "engaged" girlfriend and his children at Atlanta, their main home. 
In June 2013, two months before their wedding date, Ne-Yo called Monyetta and expressed that he wanted to end the relationship with her. Although she tried to talk and manage things back, he was commited to his decision; thus, they broke up. 
It broke Monyetta in so many ways that she could not even put her feelings in words. But she took the responsibility of her two children, Madilyn (daughter) and Mason (son), carrying her career forward like a brave-strong woman without presence of any husband.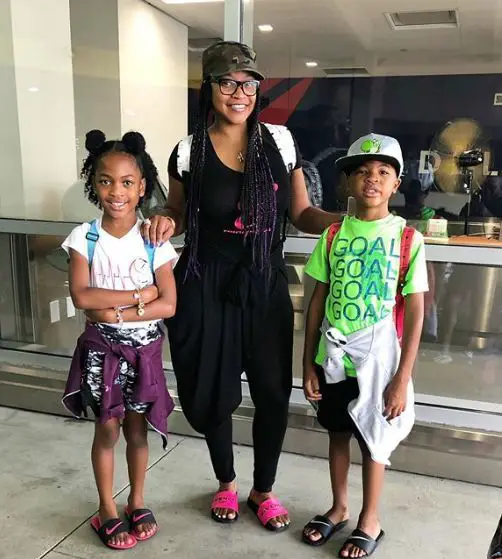 Monyetta Shaw with her children, Madilyn (daughter) and Mason (son), going for a vacation on July 23, 2019 (Photo: Monyetta Shaw's Instagram)
However, the split-couples has not left their hands when it comes to looking after their children. In the book that Monyetta wrote, she tells about Ne-Yo's support in co-parenting and providing the little ones with all the happiness.
Speaking about Ne-Yo, he continued to live a normal life and started dating Crystal Renay, a model, after working together in the music video, "Money Can't Buy" in 2014.
As of now, Ne-Yo and Crystal are parents of two sons, Shaffer Smith, Jr. and Roman Alexander-Raj Smith after they got married on February 20, 2016.
Monyetta's Bio, Family
Monyetta Shaw was born on 31st May 1980, in Greenwood, Los Angeles. 
The beautiful-diva has a great relationship with her parents as she admires how they have managed to live together all their life. She often puts photos of her with her parents and describes the love and care they have provided her over her entire life. 
This bonding of Monyetta Shaw with her family is indeed a special one.
For her education, she studied at Louisiana Tech, graduating in Bachelor of Science Degree in Psychology.
Furthermore, the star of VH1's Atlanta Exes who stands at the height of 5 feet 6½ inches (1.69 meters) has managed to earn a net worth of approximately $2 million from her career.