Mayling Ng is popularly known by her onscreen name Orana, a member of the female warrior Amazon tribe. She is also one of Hollywood's fastest-rising action heroes starring in the Suicide Squad sequel, opposite Margot Robbie and Idris Elba. 
Besides her onscreen portal as a stunt woman, she is a black belt Martial Artist and Fitness Champion representing Singapore in the USA in 2013.
What Is Mayling Ng Dating Status? 
Mayling is not married and has no boyfriend. Although her parents wanted her to get married and have kids, she remains single.
However, things were not the same in the past. According to thesun.co.uk, she was in an abusive relationship and her then-boyfriend used to get physical with her. But in 2011, she came out of her violent relationship and freed herself from an abusive man.
Actress: Brittany Curran Bio: Engaged, Boyfriend, Movies & TV Shows, Facts
Since then, she has never been in a relationship with anyone and is focused on her blossoming acting career. 
 Career & Movies
Mayling Ng initially struggled to pursue a career in acting. When she was asked to marry a businessman and settle down with kids, she told people that she wanted to make a career in Hollywood. But everyone told her she was not meant to be in movies as she lacked the girl next door physique. But Mayling was determined to achieve her dream, so she traveled to Hong Kong to break into Asian martial arts movies. But that didn't work out well for her as the Hong Kong film industry crashed, and she became a personal trainer with a successful business for the course she was in Hong Kong. But that did not bother her as she never gave her dreams.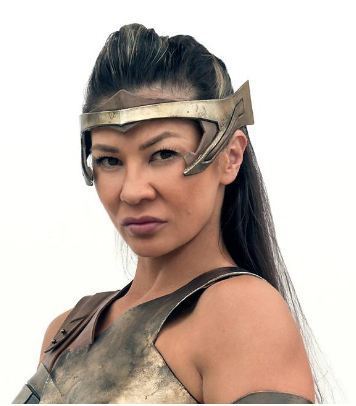 Mayling Ng as Orana in Wonder Woman ( Photo: 8days.sg)
In 2013, she traveled to Los Angeles, where she landed a role in an Asian martial arts movie. Following her success, people continuously said that she wouldn't be able to move to Hollywood movies. But she believed in herself and, for the very first time, started her journey with a role in Wonder Woman. Since then, she has played a ferocious fighting machine in four films in 2019, including The Debt Collector and Acceleration. 
Actress From China: What Is Olivia Sui Dating Status Now? Who Is Her Boyfriend In 2020?
Besides, Mayling has also worked in movies like Mister John, Lady Bloodfight, Rumble at the Border, Bushido Battleground, Marvel Strike Force, The Scorpion King: Book of souls, Blood Hunters: Rise of the Hybrids and Muna.
Short Wiki- Bio of Mayling Ng
Mayling Ng stands at a height of 5 feet 7 inches ( 1.7 meters).
She was born to a Singaporean-Chinese father and British mother. But her parents divorced when she was just three years old. She has eleven siblings. She and her brothers grew up watching Jackie Chan films.