Lovie Simone came into the acting field when her manager discovered her in 2009 at her acting school in New York City.
And soon after that, she landed on her first national commercial with JCPenney. 
Lovie rose to fame through her role as Zora Greenleaf in the OWN series, Greenleaf, which includes some famous personalities like Keith David, Lynn Whitefield, and Oprah Winfrey. 
She has also worked for voice-overs, independent movies, print ads, and industrials.
Thus, through her hard work in the entertainment industry, the actress must be gathering a considerable amount of net worth. 
Lovie Simone Wiki: Age, Twin Sister & Parents
Lovie Simone was born on 29th November 1998 in New York. Till the age of twelve, she spent her childhood in the Bronx and later settled down in Orange County, California with her parents, twin sister, younger sister, and brother. 
Also Learn About: Lauren London Kids, Net Worth, Boyfriend
Lovie spends good quality time with her cheesy family. She often hangs around with her twin sister, Yorie.
She considers her father as the man who teaches her unconditional love and her mother as her best friend, provider, and educator. 
In one of her posts on Instagram, Lovie even stated that without her mother, she would not exist and there would be no solid foundation in her life. 
Furthermore, Lovie stands at the height of 5 feet 6 inches (1.70 meters). 
Dating Life Of Lovie Simone 
Zora prepared for the debutante balls and experienced love for the first time in her life. 
Now, Who is Zora?
Well, she is the characters in the American television drama series, Greenleaf. Zora is a rebellious teenage daughter of the characters Kerissa and Jacob played by Lovie.
Though her offscreen love life is far from the spotlight, Lovie's onscreen love catches quite an attention from the audience.
Take A Look At: Sundy Carter Wiki, Age, Husband, Net Worth
Zora is dating her boyfriend, Isaiah Hambrick, portrayed by Roshon Fegan. And just as most of the teenagers, Zora thinks he is "the one." Isaiah drives a nice car and seems to be respectful, who also has some book smarts. He helps her with her homework and assignments.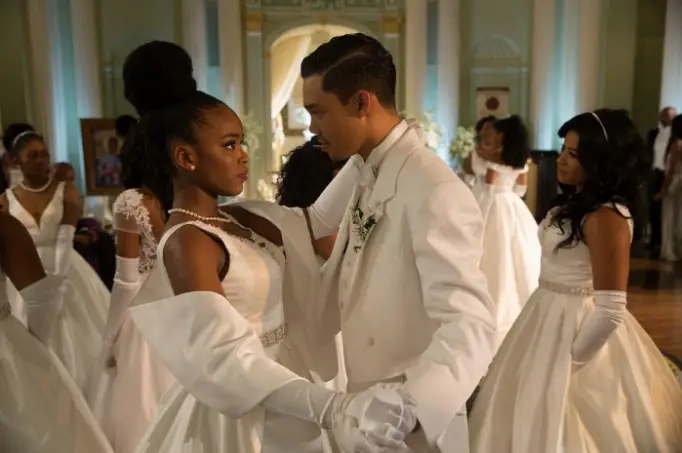 Lovie Simone with her onscreen boyfriend, Roshon Fegan, for the shoot of Greenleaf (Photo: thelily.com)
Just when everything starts looking cute and lovey-dovey, something seems very off. Isaiah starts abusing Zora with every chance he gets. He plays push and pulls with her, as many would even say hot and cold.
It all started with dates and late-night phone calls, which continued for a year. But as the day of graduating high school and leaving for college came closer, Isaiah became violently jealous. He started doing some very offensive things, but Zora didn't realize how to process it.
Also A Young Actress: Freya Allan Wiki, Age, Parents, Boyfriend
After everything, Zora was still determined to make things better. But things only got worse with time, as he started hitting her publicly, touched her unwantedly, slapped her, punched her and more. 
The Greenleaf actress portrayed her character as Zora prominently and showed how fearful, and isolated someone can be due to other people's insecurities.
Hopefully, Lovie gets a boyfriend just as lovely as her name and is not at all anywhere near to her on-screen boyfriend.