Chinese model, actress, and singer, Liu Yifei is also recognized as Crystal Liu. She has acted in several movies and TV shows like The Story of a Noble Family (2003), Demi-Gods and Semi-Devils (2003), Chinese Paladin (2005), and The Return of the Condor Heroes (2006).  
Movies & TV Shows
Liu Yifei moved to New York City when she was ten years old and returned to China in 2002 to pursue her career in acting. A week later, when she returned, she was accepted into the Beijing Film Academy and also started receiving offers to star in various television series. In 2003, she landed on her first television period romance drama The Story of a Noble Family as Bai Xiuzhu. The same year, she was also chosen to play the role of Wang Yuyan in Demi-Gods and Semi-Devils by Chinese film producer Zhang Jizhong.
Know More About Another Actress: What Is Olivia Sui Dating Status Now? Who Is Her Boyfriend In 2020?
Furthermore, in 2005, Liu portrayed the role of Zhao Ling'er in a fantasy action drama, Chinese Paladin. Lui was then cast in the movie The Forbidden Kingdom in 2006 and Love in Disguise in 2008, followed by the film Chinese Fairy Tale and White Vengeance in 2011. Later in 2013 and 2014, Liu worked in the sequels of The Four, The Four II, and The Four III. After that, she acted in Outcast, The Third Way of Love, So Young 2: Never Gone, The Chinese Widow, Once Upon a Time, and Hanson and the Beast.
Currently, Liu has completed her project Mulan, which will be released on 27th March 2020 all over the USA.
Besides acting, Liu has also has released albums 'Liu Yifei', 'All My Words,' and Mayonaka no door.'
Net Worth
According to celebrity Net Worth, Liu Yifei has made a net worth of $10 million. 
Dating?
Liu Yifei was dating a Korean actor Song Seung-Heon back in 2015. The couple announced their relationship after they co-starred in the movie Third Love.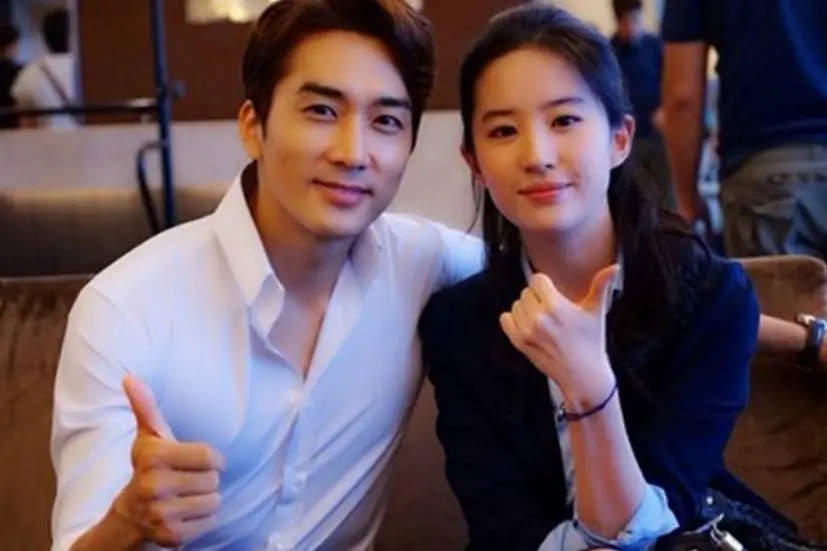 Liu Yifei and Song Seung-Heon (Photo: scmp.com)
However, in 2018, Song's agency confirmed their break up and further explained that due to their busy schedule, they naturally grew apart. 
Ex-Boyfriend Song Seung-Heon
Liu's ex-boyfriend Song Seung-Heon is best known for his television dramas Autumn in My Heart (2000), East of Eden (2008), My Princess (2011), and Player (2018). He first began his career as a model and modeled for the jeans brand STORM. However, he only became known to viewers after he played the popular sitcom Three Guys, Three Girls in 1996. Now, he has become known face not only in Korea but in most of the countries.