Linda Shelby, a wife to Arthur Shelby in the popular English T.V. series Peaky Blinders, is potrayed by the talented British actress Kate Phillips. This phenomenal actress became a prominent figure right after her first big project. Let's find out how she made it so far!
How did she debut in the entertainment industry?
Kate is living the dream of thousands of aspiring artists, including her won. It all goes back to Guildhall School of Music and Drama, where she was studying to becomes someone in the film world. In fact, her hard work and dedication were paid off when she got an offer from the Wolf Hall, for the Jeanne Seymour part even before she was graduated. Hilary Mantel's novel adaptation Wolf Hall was first released on January 21, 2015, on BBC.
Kate carefully signed more projects
While Jeanne Seymour introduced Kate to the world, it is usually difficult to dust off the old role to make a room for a new one. Generally, it would be challenging for a newcomer to fully sell the second character after the first one, particularly if the first one becomes a house-full. Kate took this challenge and triumphed. Her second role Lise Bolkonskaya in War and Peace in 2016, the third part of Venetia Scott in the series The Crown in 2016, and every other role never ceased to amaze the audiences, without any reservations. 
Her current TV series Miss Scarlet and the Duke (2021), where Kate plays the lead role of Eliza Scarlet is being aired on Alibi.
Recommended: Sheridan Pierce Bio, Parents, Lesbian, Height
Kate Phillips Personal Life 
Even though Kate Phillips is internationally known for her work, she has maintained a strictly private life, probably to avoid intense public scrutiny that comes with fame, particularly in the entertainment industry. 
This wall has restricted people to peek into her life off-camera, leaving no choice but to make guesses. Fans' curiosities about Kate's boyfriend, husband, children, or family in general, are left unattended. Clueless, some would like to think Kate as married, and some otherwise. 
The only light in this endless tunnel is an Interview Kate gave on August 25, 2019, with Pressreader.com  where she mentioned having a boyfriend. She gushed,
"My boyfriend and I have never done a proper relaxing, can'tdoanything kind of holiday. I think it's going to have to be a beach in Greece for watersports, seaside walks and lying in the sun. If that's possible in October."
The follow-up information about her relationship is no where to be found. She could still be a girlfriend or a wife, or a mom, or a divorcee..... there's a longlist to make blind guesses. 
Although her real-life love story remains behind the radar, her reel-life can be clearly seen on the curtain.
In the series Peaky Blinders, Kate and her co-star husband, Paul Anderson, play a married couple, Linda and Arthur.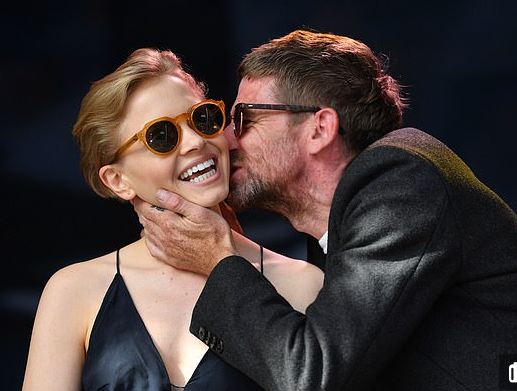 Kate Phillips gets a kiss on the cheek from her on-screen husband, Paul Anderson (dailymail.co.uk)
On-screen, the pair showed their romance, and fans hope that someday, Kate feels comfortable and open enough to share her personal life with the public. 
Kate Phillips' Age, Family
Like her personal life, Kate has also not shared much about her family life.
However, after digging inside her social media, it is found that she celebrates her birthday on 8th March every year.
Other than her birthday, her date of birth could not get located; thus, her age is hard to predict. My best guess is sweet sixteen!
Look For: Nadine Ellis Wiki, Age, Husband, Family
We don't know how exactly tall she is, who are her parents, who is her partner.... Kate is sure good at living an obscure personal life.