Jessica Szohr is an American actress known for her exclusive roles in some famous movies and TV shows. Besides, the lady is also known for her artwork of tattoos on her feet, elbow, shoulder, and biceps. 
Jessica has been associated with the show-biz for more than a decade now. Her amazing work in the industry to this date has made her stand as one of the best television actresses. 
She started in the TV shows, as Liz, in the 2004 show, What I Like About You. Later, as a guest, she starred in the Late Night with Conan O'Brien in 2008. She then also appeared as a guest in the shows, It's On With Alexa Chung and Lopez Tonight. 
Jessica's latter roles in the TV shows include Gossip Girl, CSI: Cyber and The Orville. She has also done some movies including, Piranha 3D and The Internship. 
From all the TV and movie works she has done, Jessica has successfully made a net worth of $4 million. 
Jessica Szohr Dating / Married To Boyfriend?
Ever since her initial days in the show-biz, Jessica has had a long list of link-ups and relationship.
Earlier than 2007, Jessica was rumored to be dating Philanthropist Marco Minuto. However, in 2007, there were some reports of Jessica's hook-up with the British American actor, Rafi Gavron.
See Also: Daniella Perkins Wiki, Boyfriend, Sister, Family, Age
It was coming to the year 2008, Jessica went public about her brief relationship with actor-model, Jason Lewis.
One of the most exciting link-up of Jessica was probably with the American Football star, Aaron Rodgers. The two dated in 2011 but broke-up within a short time.
The absorbing factor here was, they again connected in 2014 and briefly dated then. In between her break-up and link-up with Aaron, there were reports of Jessica dating her co-actor, Luke Pasqualino for a short time.
Jessica's 2012 hook-ups also include the names like Ricky Whittle and Daniel Grunwald. Besides, Jessica even had an on and off relationship from 2008 to 2013 with the English actor, Ed Westwick. 
The longest of all relationships of Jessica was with the American football star, Scotty McKnight. The two met in December 2014 and started dating ever since.
Although comparatively, Jessica's relationship with Scotty was longer, this also couldn't sustain for a lifetime. As per the reports, Jessica and Scotty broke-up in June 2018.
Shortly, after her break-up with Scotty, Jessica started dating the professional hockey player, Brad Richardson. In her February 2019 interview, Jessica revealed that she had been dating a guy for months.
Finally, in March 2019, it was revealed that Jessica was in a relationship with Brad denying the rumors of dating Jamie Foxx.
After all her link-ups and break-ups, Jessica finally found her prince charming. She is open to sharing the pictures of her good times with her boyfriend, Brad.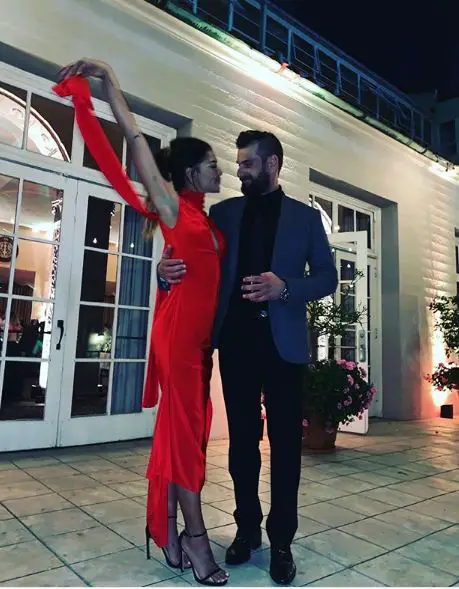 Jessica Szohr poses with her boyfriend, Brad Richardson, on 5 June 2019 (Photo: Jessica Szohr's Instagram)
To this date, Brad has stood as the perfect boyfriend for Jessica. Their blissful relationship is undoubtedly apparent in all of their pictures.
Hopefully, Jessica and Brad remain loyal to each other for a lifetime and set a landmark of their love among modern-day lovers.
Jessica Szohr Age, Parents
The 31st March 1985 born television actress, Jessica Szohr, is 34 years of age in the time being.
Don't Miss: Catrina Kidd Biography, Age, Net Worth, Husband
She is a native of Menomonee Falls, Wisconsin, and an immigrant to Los Angeles. The lady of 5 feet 5 inches (1.67 meters) height embraces a mixed ethnicity.
Jessica's father's African-American-European ancestry and her mother's Hungarian, German, English and Irish descent attribute to Jessica's ethnicity. 
Jessica's parents have five kids, including Jessica, her three sisters, and a brother. Jessica is the eldest of all her siblings with 18 years of an age gap with her youngest sister.
All her life, Jessica has been close to her siblings. Even after the greats of her popularity, Jessica manages to spend quality time with them. 
Hopefully, this sibling bond always remains the same for a lifetime.