Jennifer Coolidge is a famous American movie and television actress who is known for her utmost acting talent and her various on-screen roles. Along with that, she is also a comedian. 
On her acting front, she has appeared in successful movies like Legally Blonde, American Pie, Plump Fiction, Down to Earth, and A Cinderella Story, to name a few. 
Similarly, her TV shows include 2 Broke Girls, Joey, and The Secret Life of the American Teenager.
Moreover, this incredible acting journey for Jennifer started with her starring in the episode "The Masseuse" of the 1993's television series Seinfeld.
Her Age, Height & Education
Jennifer Coolidge possesses a towering height of 5 feet 10 inches (1.78 meters). 
She was born on 28th August 1961 in Boston, Massachusetts, USA, as Jennifer Audrey Coolidge. 
Interesting: Is Dominic Sherwood Dating Girlfriend? Relationship, Family, Height, Net Worth
Speaking about her education, she studied at Norwell High School and Emerson College in Boston, Massachusetts, where she earned her bachelor's degree in theatre in 1985.
Family
Jennifer Coolidge's family life is surrounded by her parents, Gretchen and Paul Constant Coolidge, and her three siblings, one brother and two sisters.
Is She Lesbian?
Jennifer Coolidge is definitely not a lesbian, and as proof of that, one can simply relate with her being in a relationship with a few men over the years. 
Moreover, during an interview with The Advocate in 2010, she was even asked whether she ever has been in an intimate relationship with a woman, where she clearly stated that she has not been in any such relationships. 
Her Dating Details With Partner 
Over the years, Jennifer Coolidge has dated a few known names from the entertainment industry as well as a few mystery men. However, none of the relationships lasted long for her. 
Starting from her last known relationship, she dated a man named Banks McClintock, who was eight years younger than her in age. They dated from 2004 to 2005.
Likewise, she has also dated Christopher Lee Kattan, former Saturday Night Live cast member, in 2001. Christopher was also nearly ten years younger than her.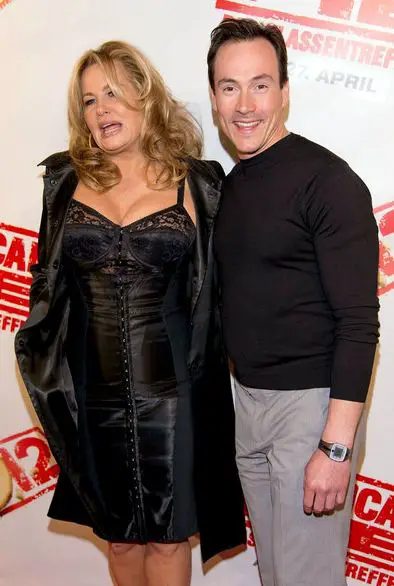 Jennifer Coolidge and Christopher Lee Kattan at American Reunion' premiere in Austria in 2012 (Photo: Zimbio)
Continuing, Jennifer dated many other younger partners and never mentioned their identity. But for now, there has been no information whether or not she is in a relationship. 
Her Earnings & Net Worth
Jennifer Coolidge has a net worth of $8 million, which she has accumulated with the earning from her movie and television work's paycheques. 
Also Read: Justin Lukach Wiki Unfolds Age, Married, Wedding, Wife & More
Other than her acting career, there is no visible source of income for her. Hence, it is definite that her acting career has been paying her well so that she has collected such handsome wealth. 
Moreover, with her wealth, she owns a house in New Orleans' Lower Garden District since 2005.
Interesting Facts
Jennifer Coolidge appeared as a guest cast Amanda Buffamonteezi in the season 10 of series Friends.
She supports charitable work, which includes supporting animal rights and AIDS assistance. 
She has worked as a waitress in a New York City restaurant for five years.