Ingrid Oliver is a British actress, comedian, and writer. She is best known for her mind-blowing performances in the comedy duo, Watson & Oliver alongside Lorna Watson, and the TV series Doctor Who. 
In addition to them, she is also known for TV series like The Wrong Door in 2008, Plus One in 2009, Material Girl in 2010, Silent Witness, and Defending the Guilty both in 2019.
Her notable credits as a writer include the TV movie, Watson & Oliver in 2007, TV series The Wrong Door in 2008, and Watson & Oliver in 2012. 
Ingrid Oliver's Bio, Age
Ingrid Oliver was born on 26th November 1977 in London, England, the United Kingdom to a British mother and a German father. 
She grew up with her family members in different places. Due to this and her parents' impact, she can speak fluent German and Italian. 
During the beginning years of her career, Ingrid met her comedy partner at Tiffin Girls' School. Since then, the two comedians have found a bond professionally and performed their first show together at the Canal Cafe Theatre in London. 
You May Like: Kelli Seymour Bio: What Is Her Age & Who Is Her Boyfriend?
In the coming years, she performed in some of her first TV series like Doc Martin in 2005, Vital Signs in 2006, and TV movies like Biffovision and Watson & Oliver in 2007. 
By now, she has acted, written, and played the role of a comedian in several hit projects, making her one of the praisable personalities in the British entertainment industry. 
Height 
She stands at the height of 5 feet and 7.25 inches (1.7 meters).
Married Or Dating Boyfriend?
Ingrid Oliver is very secretive about her personal life. She has not revealed whether she is married or dating boyfriend if she had any until today. 
However, she frequently shares humorous posts on her social media timelines about her love vibes.
Whether it is sharing a picture of a dog and tweeting " I married him" or sharing a picture of her The Hustle movie co-star, Anne Hathaway, captioning Anne as her wife, Ingrid is an expert in sharing good vibes with fun.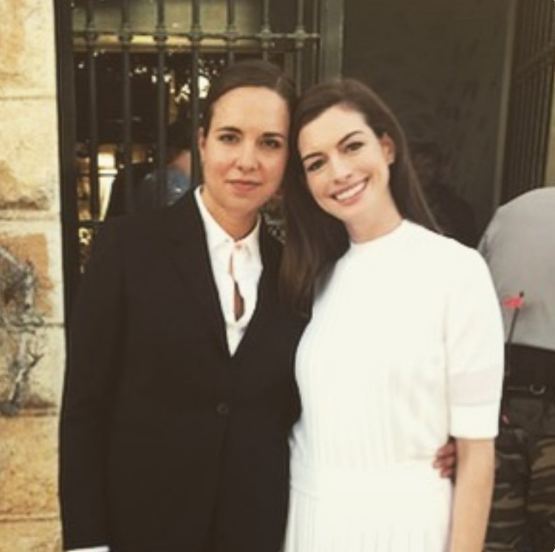 Ingrid Oliver with The Hustle movie co-star Anne Hathaway on 18 May 2019 (Photo: Anne Hathaway's Twitter)
Additionally, she can be seen tweeting several times about unspecified boyfriend, but she is never found talking about her relationships in detail. 
Doctor Who 
Ingrid Oliver gained a lot of reputation and fan following by playing the role of Petronella Osgood in the BBC's British science fiction series, Doctor Who.
In this hit show, she made her first appearance by performing in the show's special episode marking its 50th anniversary titled The Day of the Doctor, which was aired on 23rd November 2013.
Enjoy Reading: Elly Castle Exclusive Bio: Age, Husband, Divorce, Children
In the series, she has performed in the 7th, 8th and 9th season, where she was a person working for UNIT as a personal assistant to Kate Stewart, another character. Ingrid made her last appearance in 2015.
Recently, in October 2019, Ingrid has revealed that she would love to reprise her role in Doctor Who while talking with Entertainment Weekly.
Interesting Facts
She can wiggle her ears. 

Her favorite place in the world is Venice. New Orleans is close to second in her list.

She can speak passable French and Spanish too. 

In 2008's TV series, Peep Show, playing the role of Natalie, Ingrid is mistaken for a lesbian on-screen by a character named Mark due to her tough and masculine nature until he gets sexually assaulted by her.