Elly Castle is an American actress best known for role in the 2006 movie, Collier & Co. and 2007's movie John Schneider's Collier & Co. Hot Pursuit.
Elly Castle's Age & Birthday
Elly Castle, also known as Elvira Schneider, celebrates her birthday on 15th September of every year.
She is 59 years old as of 2019.
Her Husband, Divorce & Children Details 
Elly Castle has many ups and downs in her personal life. From her teenage to present years, she has a long story to share regarding her love life.
She got pregnant when she was just 15 and gave birth to a baby girl. Since she was not capable of raising a baby at the time, she gave up her daughter for adoption.
However, she was reunited with her daughter, who is now named Mandy, after 21 years. She also found out that she has been a grandmother to Mandy's child. 
You May Like: What's Rebecca Gayheart Married Status Now? Still Together With Husband?
Then, after years of the incident, Elly got married to John Schneider on 11th July 1993. The couple has three children together. 
The two elder ones: a daughter named Leah Schneider born in 1984 and a son named Chasen Joseph Schneider born on 31st December 1991, were actually from Elly's previous relationships.
Details of Leah and Chasen's biological father is not disclosed yet. However, John adopted them following his marriage with Elly.
Elly and John together were blessed with a daughter named Karis Lynn Schneider, born in 1993.
The couple remained happy throughout their married life. However, Elly filed for divorce from her husband of 21 years in November 2014. They remained living separately since then and fell in several issues before their divorce was completed.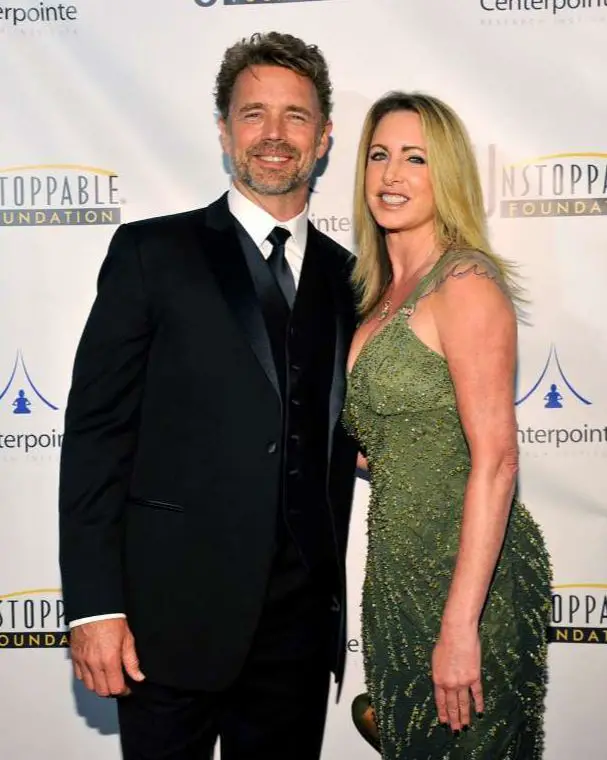 Elly Castle with her ex-husband John Schneider while attending 5th Annual Unstoppable Gala in Century City, California on 15 March 2014 (Photo: John M. Heller/ Getty Images)
In 2018, John was ordered to spend three days in the Los Angeles County Jail and complete 240 hours of community service since he failed to pay temporary spousal support to Elly. 
Finally, the couple was officially divorced on 20th August 2019. 
Children Details
All of Elly Castle's children are now engaged in the entertainment industry. Leah Schneider has appeared in TV series like Project Runway and Project Runway All Stars as a board operator and lighting board operator. 
Chasen Schneider began learning acting from a young age. He attended The Columbia Gorge School of Theater in Washington and began appearing in various projects at the age of eighteen.
Later, he also took a 3-year course of BA Acting at LAMDA and has acted in films like Party of the Year, Anderson Bench, Hate Crime, and TV series like The Secret Life of the American Teenager since his graduation. 
Interesting: Tina Kunakey, Vincent Cassel's Wife Exclusive Wiki Including Baby Details
Karis Schneider has also appeared as Danielle in 2006's Collier & Co. 
Who Is Her Ex-Husband John Schneider?
Born on 8th April 1960 in Mt. Kisco, New York, John Schneider is an accomplished actor. He made his breakthrough by playing the role of Bo Duke on CBS's comedy-drama, The Dukes of Hazzard from 1979 to 1985. After this, he continued to appear in several films and TV series.
As of now, along with his acting career, he also owns a production company named Faith Works Productions in San Antonio, Texas, where he writes, directs, and produces several projects.
As of his love life, he was married to former L.A. news anchor and Miss America Tawny Little. They got divorced in 1986.
Soon after his divorce with Elly Castle, he married his longtime girlfriend, Alicia Allain, on 25th September 2019. They were in a relationship since 2014.