American actress Golden Brooks was born on 1 December 1970 in San Francisco, CA. Carrying her passion for dancing from a young age, Golden even worked as a ballet, jazz and modern dance teacher for a while before being a popular actress in Hollywood.
She earned many trophies by winning the skating competitions as well during her school days. Having an uncle as a teacher, Golden always prioritized education. She achieved a Bachelor's degree in Sociology, from UC-Berkeley and a Master's degree from Sarah Lawrence College.
Fun fact about the popular comedy series Linc's actress- she is a cat lover and has a one of her own named Saeku.
Golden Brooks Net Worth
Lovely and confident Golden Brooks is an American actress known for her role in movies like Timecode and Imposter. She is also remembered for her noteworthy performance in the TV series, Girlfriends as Maya Denise Wilkes, for which she was awarded BET Award for Outstanding Supporting Actress in a Comedy Series.
Peek Into The Life Of: Sasha Gabriella Fox Wiki: Parents, Siblings, Boyfriend
She has been associated with a total of twenty-three movies, including two short films, and sixteen TV shows.
Golden Brooks is presently at the height of her career; she has been nominated for several prestigious honors. For her impressive career history, it is not a surprising fact to know that she carries a net worth of $8 million.
Golden Brooks Husband, Daughter
Golden Brooks was very happy when she was dating her boyfriend D.B. Woodside, a popular American actor known for his role in movies like Lucifer, Romeo Must Die and 24. 
The couple was regarded as one of the most influential couples in the industry when they started dating in 2008. They were smitten with each other and were always seen together on award shows.
Showering themselves with more blessings, in July 2009, Golden announced that she and D.B Woodside were expecting their firstborn, which gained a lot of media sensation. They welcomed their daughter on 1 September 2009.
Just when people thought Golden Brooks had found her future husband, she and her boyfriend broke up. The reason for the split was never publicized, but it can be assumed that it was mutual since Golden and D.B Woodside still meet occasionally during special occasions.
Golden's daughter, who is already eight years in age, shares a close bond with both her parents, even though they are no longer in a relationship.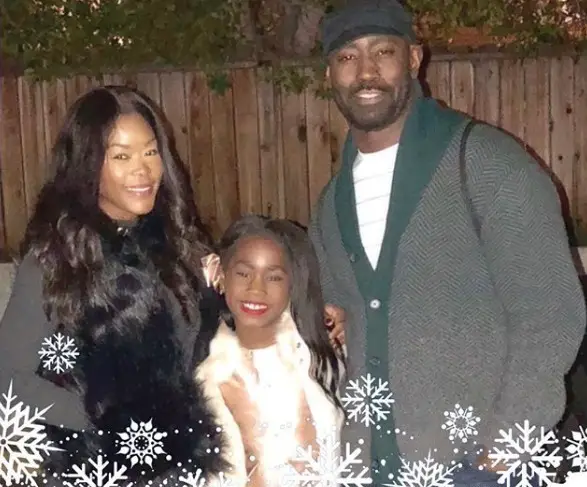 Golden Brooks enjoys holiday season with her ex-boyfriend D.B. Woodside and daughter on 20 December 2018 (Photo: Golden Brook's Instagram)
For now, Golden is neither married or dating anyone, as she spends most of her time with her daughter. Golden loves her daughter more than herself and regularly posts pictures of her little doll on social media.
Worth The Read: Draya Michele Husband, Boyfriend, Children, Net Worth
Golden shares a close relationship with her own parents as well, so it can be assumed that she is passing the lessons her parents taught her to her little doll!