Born to her parents- Chief Babatunji & Chief Mrs. Felicia Olowofoyeku, it is understandable that Folake Olowofoyeku was insisted to go for the family profession, that being- Law and Politics.
However, Folake always dreamt of delving into the arts, especially music. It was afterward that she moved into acting.
In the beginning, she went pursuing undergraduate studies in the arts without her parents knowing about it, which eventually led her to receive a Bachelor of Arts (Honors) in Theatre.
She gradually received approval from her parents, who initially were strongly opposed to the idea. This is what she had to say about the matter with her folks-
I think it was just their way of trying to protect me. They couldn't have foreseen this. I couldn't have, but I knew something similar was possible. But they did come around before they passed on
Thus, she claims that it was not as easy as it seems now, for both of them have passed away and not even a bit of grudge stays in between. Instead, there only lies the great beautiful memories in the memory lane.
Folake Olowofoyeku Bio (Age)
Folake grew up in Nigeria, celebrating her birthday every year on the 26th of October, thus embracing a Nigerian nationality.
The interesting fact that would not easily be missed out with the mention of her family background is that she was born as the youngest child to her parents' twenty children. As a most newborn one in the family, she must have been brought up with lots of love and pampering.
Continue Reading: Cynthia Kaye McWilliams Married, Dating, Parents
Now all in the past, Folake with her beloved parents long gone, lacks their presence in her life. However, she sure has her nineteen siblings to be there for her when in need.
The loss must have been unbearable for a while, but there is no doubt they soon learned to cope with the heartfelt eventually.
When asked about her role model and influencers in life, despite taking the big names, she proudly credits everything to her parents.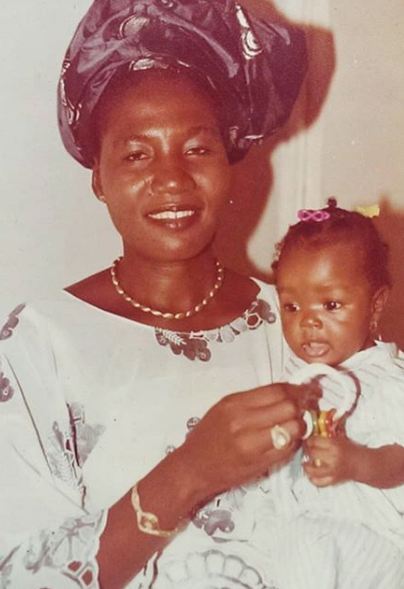 Folake Olowofoyeku remembers her mother on occasion of Mother's Day on 14 March 2018 (Photo: Folake Olowofoyeku's Instagram)
She believes that it was her mother's determination, strength, loyalty, humility, and sense of humor, and her patriarch's ambitions, accomplishments, strategies, tenacity, and sweet-tooth- that this all the magic in her life and career as a whole.
Married To Husband?
Standing to a height of 5 feet and 11 inches (1.8 meters), Folake, the gorgeous Hollywood-star keeps her personal life in a safe distance from the media and public. And, sure enough, she's not yet walked down the wedding aisle with her husband.
Instead, she is amidst building an empire of herself in the industry and is literally married to her job.
Up until now, she has amassed a fantastic set of acting credits to her name, working on several movies and TV-shows.
The diva earned the Best Actress Award for her lead role in the feature film- When They Could Fly at the prestigious ReelHeART International Film Festival in Toronto, Canada.
Likewise, she won the Best Actress In A Fashion Film for her lead role in Central & Broadway at CinéFashion Film Awards in Los Angeles.
Meanwhile, in recent times, she stars in the 2019's Chuck Lorre CBS sitcom in a leading role. The very TV show is the most awaited venture of her profession and is believed to be a turning point in her career as a whole.