Japanese-born British actress Sonoya Mizuno is well-known for her role of Caitlin in American musical romantic comedy film La La Land (2016). She is also known for the movies like EX Machina (2014), and Annihilation (2018).
With a transparent, professional accomplishment, Sonoya has amassed an enormous number of admirers, who timely show their concern about her dating affair and possible boyfriend.
Sonoya Mizuno's Bio: Career, Net Worth
The 30-year-old actress was born on 1 July 1988 in Tokyo, Japan.
However, she grew up in Somerset, England, and graduated from The Royal Ballet School. With the sway of time, Sonoya quitted ballet and went on to pursue a modeling career. 
Sonoya with the height of 5' 7" (1.7 m) initiated modeling at age 20. She signed for Profile Models in London and went on to model for brands Channel, Alexander McQueen, Saint Laurent and Louis Vuitton.
Sonoya also appeared in Arthur Pita's work of dance theatre The World's Greatest Show at Greenwich Dance and the Royal Opera House.
In 2012, she debuted in movies with the short role of Forest Guard in the film Venus in Eros. Later, she got her big break via Alex Garland's science-fiction thriller Ex Machina in 2014.
Afterward, Sonoya appeared in several movies such as High Strung (2016), Alleycats (2016), La La Land (2016), and Beauty and the Beast (2017).
After appearing in a cameo role as the debutante in Disney's live-action adaptation of Beauty and the Beast, Sonoya joined the cast of the Warner Bros film Crazy Rich Asians starring Constance Wu and Michelle Yeoh.
With her profound career, Sonoya Mizuno has earned a hefty amount of fortune. However, she has not revealed the exact figure of her net worth to the media.
Sonoya's Family Life
Sonoya is the daughter of Hajime Mizuno, who hails from Kyoto, Japan. Her mother holds the surname 'Duke' and is half-English, half-Argentinian. Hence, Sonoya is of mixed ethnicity with English and Japanese descent. Her uncle, Edward Duke is also a renowned stage actor. 
Sonoya's parents met each other in Tokyo, Japan in the 1970s.
Sonoya often keeps flaunting the photo of her parents and siblings on her social account. Back on 9 March 2017, she shared the pictures of her sisters on the special day of International Women's Day.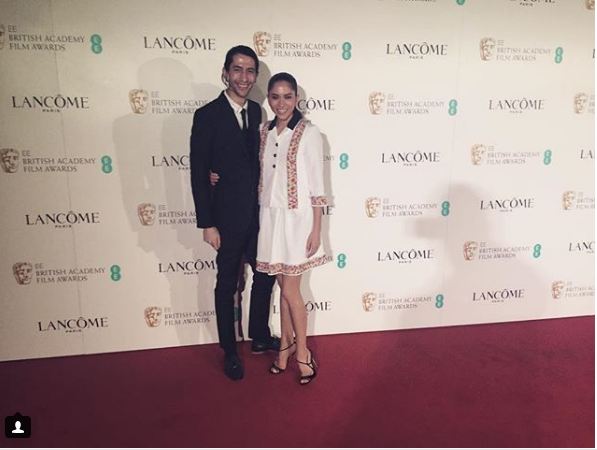 Sonoya Mizuno attends the red carpet event with brother Tomoya Mizuno on 14 February 2016 (Photo: Sonoya Mizuno's Instagram)
Similarly, on 14 February 2016, Somoya shared the picture of her brother through Instagram. Speculating at the pictures she shares on her social media, it is apparent the Somoya has a close-knit relationship with all her family members. 
Dating Someone Or Single?
The actress with her gorgeous looks and acting skills has undoubetedly attracted many male fans, and many of them even have a crush on her. But, it appears as Sonoya has not found the perfect person with whom she can get married and settle down.
Her social media account lacks the presence of any man that can be given her boyfriend tag. Moreover, she has also not spilled the beans of any of her dating relationship. 
So, Sonoya is probably single right now and is focused on her budding career.